Elizabeth Debicki is an Australian film and television actress. She has gained international recognition for roles in such movies as The Great Gatsby, The Man from U.N.C.L.E., Everest, Guardians of the Galaxy Vol. 2, and Tenet. She also portrayed Princess Diana in Netflix's The Crown.
How Old is Elizabeth Debicki? What is her Height?
Elizabeth Debicki was born on August 24, 1990, in Paris, France, to a Polish father and an Australian-Irish mother. She is 30 years old at the time of this writing and is billed as standing at a towering 6 feet 2¾ inches (1.9 meters).
The oldest of three children, Debicki's family moved to Melbourne, Australia when she was five and settled in the suburb of Glen Waverley. There, she attended Huntingtower School, graduating in 2007. She went on to attend the University of Melbourne's Victorian College of the Arts and graduated in 2009 with a degree in drama.
Career
Elizabeth Debicki landed her first feature film role in 2011 as Maureen in the Australian comedy A Few Best Men. The role paved the way for her next feature film role as Jordan Baker in the 2013 film adaptation of F. Scott Fitzgerald's eponymous 1925 novel, The Great Gatsby. She joined an ensemble cast of actors including Leonardo DiCaprio, Tobey Maguire, Isla Fisher, Carey Mulligan, Joel Edgerton, and Jason Clarke, to name a few.
Elizabeth Debicki as Jordan Baker in The Great Gatsby
SOURCE: The Guardian
She has since starred in several critically acclaimed and commercially successful movies including 2015's The Man from U.N.C.L.E. and Everest, 2017's Guardians of the Galaxy Vol. 2 and Valerian and the City of a Thousand Planets, 2018's The Cloverfield Paradox, and 2019's The Burnt Orange Heresy.
Most recently, she starred as Berenice Hollis in Christopher Nolan's latest sci-fi action blockbuster Tenet opposite John David Washington and Robert Pattinson.
On television, she is perhaps most known for portraying Princess Diana in the Netflix period drama series The Crown for its final two seasons. She has also played Jed Marshall in the British serial miniseries The Night Manager and Dr. Anna Macy in the Australian drama series The Kettering Incident.
What is Elizabeth Debicki's Net Worth in 2020?
As reported by multiple online sources. Elizabeth Debicki is believed to have a net worth of $1.9 million. Her seven-figure wealth comes from her acting career.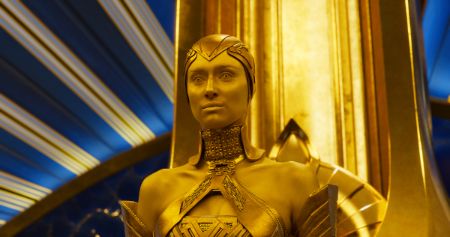 Elizabeth Debicki as Ayesha in Guardians of the Galaxy Vol. 2
SOURCE: Finance Rewind
She has featured prominently in blockbuster movies like The Great Gatsby (box-office earnings: $353.6 million), The Man from U.N.C.L.E. (box-office earnings: $108.5 million), Everest (box-office earnings: $203.4 million), Guardians of the Galaxy Vol. 2 (box-office earnings: $863.8 million), and Tenet (box-office earnings: $357.8 million).