Ben Affleck, 47, is one of the most successful actors and filmmakers. He has worked in a wide array of additional projects, especially the role he portrayed in the Academy Award-winning Good Will Hunting earned him a permanent spot in the industry.
However, today we are here to discuss the personal affairs of the former Batman. In a recent interview with The New York Times, Affleck said his divorce from Jennifer Garner, 47, is the 'Biggest Regret Of My Life.' So, what heralded the end of their years-long relationship?
How Ben Affleck Married Life With Jenniffer Garner Ended?
Award-winning actor, Ben Affleck in an interview with The New York Times, said that the end of his marriage with ex-wife Jennifer Garner remains the "biggest regret of my life."
CAPTION: Ben Affleck and his ex-wife Jennifer Garner
SOURCE: Page Six
In the same interview, the actor said the deterioration of his marriage with Garner is his drinking habit and the media scrutiny about their relationship. He said,
I drank relatively normally for a long time, What happened was that I started drinking more and more when my marriage was falling apart. This was 2015, 2016. My drinking, of course, created more marital problems
He continued and said of the split,
The biggest regret of my life is this divorce

Shame is really toxic. There is no positive byproduct of shame. It's just stewing in a toxic, hideous feeling of low self-worth and self-loathing.
Ben also praised his ex-wife Garner, saying,
She truly is kind, She means no one any harm. She doesn't have ill will for any person. She's not competitive with other people. She's not spiteful
Affleck underwent several treatments for substance abuse. In 2017 and 18, the actor was photographed with Garner driving him to a treatment facility. It led to many media speculations about Ben's health and its effect on their marriage which according to him is one of the biggest reasons for their separation.
Affleck and Garner Share Three Children
The couple first came across on the sets of Pearl Harbor (2001) and they became more close following their second encounter during the shooting of Daredevil (2003).
After dating for a while, they finally tied the knot on June 29, 2005, in a beautiful Turks and Caicos ceremony.
Affleck and Garner have three children. They welcomed their first child, a daughter named Violet Anne in December 2005. Violet later joined by two other younger siblings, a sister Seraphina Rose Elizabeth, born in January 2009 and a son, Samuel Garner, born in Feb 2012.
The couple once regarded as one of the powerful couples in the world. Despite their long and loving relationship, they announced their separation in June 2015. They jointly filed for divorce in April 2017 and their divorce proceeding ended in October 2018.
Sources reported it was an amicable split. They sought joint physical and legal custody of their children.
Relationship With Jennifer Lopez
Ben Affleck's high-profile relationship with Jennifer Lopez, 50, attracted extensive media coverage. The super couple first met on the set of Gigli and started dating in July 2002. The couple got engaged in November 2002; Affleck proposed Lopez giving her a $2.5 million diamond engagement ring.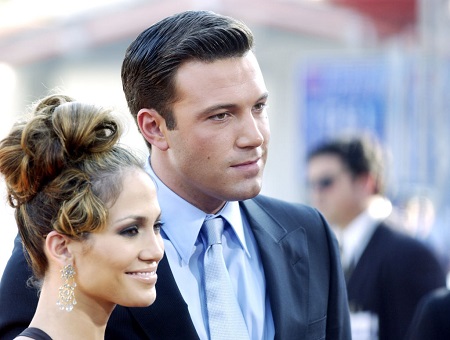 Ben Affleck and his former fiancee Jennifer Lopez
SOURCE: Showbiz Cheat Sheet
The couple also planned to marry on 14th Sept 2003, in an elaborate ceremony in Santa Barbara, California. But, the couple called off their marriage with four days' notice because of "excessive media attention".
Following the release of Gigli in 2003, the movie was also turned out to be a super flop, collecting 3 million box office within its first weekend. They gained scathing reviews for their work in the project.
The two broke up in Jan 2004. Jenniffer told to VH1,
"I don't think I had ever been heartbroken in that way before"
Affleck later moved on with television producer Lindsay Shookus. But, they also split up in mid-2018, after a year of dating. As of 2020, the actor is probably single.