One of Hollywood's most handsome, Johnathon Schaech is an American actor, writer, director, and producer. He well-known for his role of James in That Thing You Do! which he played alongside Tom Everett Scott, Liv Tyler, Steve Zahn, and others. He was also nominated as Best Villain by MTV for the 2008 film Prom Night.
Early Life And Education Of Johnathon Schaech
Johnathon Schaech was born on 10th September 1969 in Edgewood, Maryland, U.S, under the birth sign Virgo. He belongs to the mixed heritage of German, French, English, and Italian is an American by his nationality.
Schaech was born to father Joseph Schaech and mother Joanne Schaech. He was raised in Roman Catholic along with her sister Renée Schaech. He earned a graduate in economics from the University of Maryland where he also took an acting cla s s.
Johnathon Schaech's Career
Johnathon Schaech's acting career started in the early 90s working in commercials and bit parts in movies under Wilhelmina West Inc. He made his acting debut in 1993 television film, Johnathon Schaech as Giampaolo.
From 1993 to 2000, Schaech made his appearances in several movies that include Sparrow, How to Make an American Quilt, Welcome to Woop Woop, Finding Graceland, Woundings (aka Brand New World),
How to Kill Your Neighbor's Dog and many others.
Later, Schaech made his debut in the small screen in 2001 Canadian-American television series, Outer Limits as Andy Pace. The same year, he also acted in American television drama series, Time of Your Life alongside Jennifer Love Hewitt, Jennifer Garner, Pauley Perrette, and others.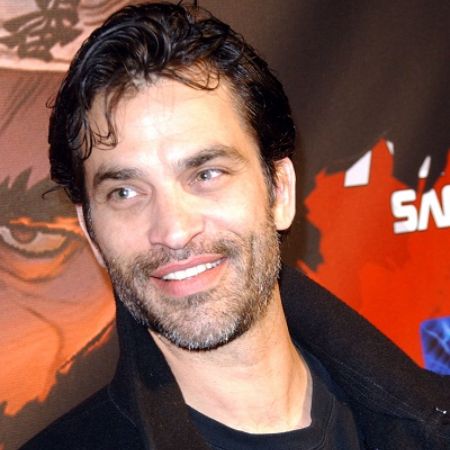 CAPTION: Johnathon Schaech's Career
SOURCE:
Schaech's other television credits are Arrested Development (2003), CSI: Miami (2011), The Client List (2013), Texas Rising (2015), and others. Similarly, he portrayed Jonah Hex in American superhero television series, Legends of Tomorrow from 2016 to 2018.
Besides, Schaech is also an author, his first book Rick Dempsey's Caught Stealing was published in 2014 April. Similarly, he also a playwright who has worked alongside Richard Chizmar. His works include Heroes (2002), Road House 2 (2006), as well as a Showtime's Masters of Horror The Washingtonians (2007).
Johnathon Schaech's Net Worth: Is His Net Worth In Millions?
The talented actor, writer, and a producer, Johnathon Schaech has made a good fortune from his outstanding career.
Schaech's net worth is estimated to be around $15 million as of 2019. Moreover, he owns several restaurants in Washington and has also launched his own brand of Vodka.
Furthermore, it is reported that American producers' earning range between $44,092 and $61,181 per year. Similarly, the playwrights earn around $55,420 per year.
Johnathon Schaech's Personal Life
Johnathon Schaech has been married three times. He first married an American actress and writer, Christina Applegate in October 2001 in Palm Springs. The couple spent their beautiful years of marital relationship before Schaech filed for divorce in December 2005, citing irreconcilable differences. Their divorce was finalized in August 2007.
Schaech then began dating singer/actress Jana Kramer with whom, he got engaged in December 2009. They tied the knot on 4th July 2010 in Michigan, however, they separated one month later. Their divorce was finalized in June 2011.
As of 2019, Schaech has been in a marital relationship with the music and book publicist Julie Solomon. The current husband-and-wife have been married since 2013. Their marriage was held in Ocean City, Maryland. The couple has a son, Camden Quinn, born in September 2013.
Meanwhile, Schaech was hara s sed and sexually abused by director Franco Zeffirelli during the shooting of the television series Sparrow, which he kept secret for 25 years. Later, Zeffirelli's son, Pippo denied his father verbally or sexually abused on Schaech.
Johnathon Schaech's Height And Weight
Height: He stands at a height of 5 feet and 9 inches/ 1.85m.
Weight: Schaech has maintained a good body weight of 78 kg or 171 lb.
Below is a video that features a short interview of Johnathon Schaech
by ab-mahima, 24 Feb, 2019