STOP EVERYTHING!!! F.R.I.E.N.D.S' fans are struggling to contain their emotions as the popular sitcom's love couple Jennifer Aniston and David Schwimmer might be dating in real life! Rachel Green, played by Aniston, and Ross Geller, played by Schwimmer, are one of the most famous TV couples in Hollywood history.
The news of their romance swirled in the media like wildfire after Aniston and Schwimmer revealed their secret feelings for each other during the Friends reunion back in May of this year.
Where Did It All Start?
During the popular show Friends' Reunion, Aniston and Schwimmer revealed their secret feelings for each other, and their fans and followers went crazy.
Now, many sources are revealing that the most loved on-screen couple might now be a real-life couple!
During the reunion, the stars came together and they reminisced about their old times on set. Aniston and Schwimmer chatted about whether Rachel and Ross were really on a break. Continuing the chat, both revealed and confirmed that they had a mutual crush on one another.
Jennifer Aniston shares pictures from Friends reunion.
SOURCE: Instagram @jenniferaniston
Expressing love, Schwimmer revealed that they were crushing hard on each other, but their relationship was like two ships passing. He explained how one of them was always in a relationship, and they never thought of crossing that boundary. Dr. Ross Geller, at the time, said: We respected that.
On the other side, the 54 years old actress said: We just channeled all of our adoration and love for each other into Ross and Rachel.
How Did Jennifer Aniston & David Schwimmer Romance Rumors Start?
The way Schwimmer and Aniston expressed their love for each other, right at the moment, many felt the chemistry they had always buried was still there.
Close sources of the pair have confirmed that they started texting immediately after filming the reunion. Do you know Schwimmer flew to Los Angeles to see Aniston? Isn't this cute?
Many gossip mongers have confirmed that the handsome hunk spent time at Aniston's home. They cooked dinner together in the evenings and enjoyed quality time together.
Similarly, the close source revealed that Schwimmer and Aniston were spotted drinking wine and seemed deep in conversation while walking around one of her favorite vineyards in Santa Barbara.
Roschel Fans' Reaction!
As mentioned above, fans went crazy when Aniston and Schwimmer expressed love for each other. Now, their romance rumors have brought huge excitement, and people can't just stop themselves from tweeting and expressing love for the pair.
Check out some of the tweets made by the couple's fans listed below:
He's always been her lobster 🦞❤️

Jennifer Aniston and David Schwimmer are rumored to be dating 😱❤️

— PrettyLittleThing (@OfficialPLT) August 10, 2021
The One Where Love Is Real

Ross and Rachel

David and Jennifer

YES! David Schwimmer and Jennifer Aniston rumoured to be a COUPLE!

JANICE - Oh. My. God. 🤣🤣🤣

PHEOBE - He's her LOBSTER 🦞

— Popcorn Hub Official (@PopcornHub) August 10, 2021
English broadcaster Amy Voce also tweeted about Aniston and Schwimmer's dating rumors:
THERE ARE RUMOURS ROSS AND RACHEL ARE DATING IN REAL LIFE

— Amy Voce (@amyvoce) August 10, 2021
Dental nurse and dedicated socializer Lisa Logan expressed her excitement on how the romance rumors could be the 2020/2021 depression antidote.
The fact Jennifer Aniston & David Schwimmer are rumoured to be dating is the best thing to happen since 2019! If this is true, it could be the 2020/2021 depression antidote. #rossandrachel 🥰❤️

— Lisa Logan (@mrslisamlogan) August 11, 2021
Though Aniston and Schwimmer have not confirmed the rumors, it seems like he is always her lobster!
Ross Geller and Rachel Green's Relationship Timeline in the Series!
Besides Monica Geller (Courteney Cox) and Chandler Bing (Matthew Perry), Ross Geller and Rachel Green are a central couple of Friends. They enjoyed on-and-off relationships right from the pilot episode to the finale! Their relationship started when Ross had a crush on Rachel since high school, but he was just her friend, Monica's dorky older brother.
In the first season, their love story is just entirely one-sided. Ross had a crush on Rachel since high school, whereas Rachel thought of him as Monica's brother. In the first season, Rachel was busy starting her new life, getting over Barry (Mitchell Whitfield), and learning independence. However, at the end of the season, Rachel realizes how he feels about her.
The second season starts with Ross dating Julie. When Ross finds out Rachel has feelings for him, he ends things up with Julie to be with her. The Friends fans can definitely relate that the third season is one of the biggest seasons for Ross and Rachel. In the third season, the couple goes from a happy couple to one of the worst breakups. Trying to get back together! Ross becomes jealous of Mark (Steven Eckholdt), Rachel's co-worker. They ended up in a huge fight and ended up taking a break. Ross ends up sleeping with someone.
Since the breakup, there are many episodes based on the fight, break, and aftermath. "We were on a break" is one of the dialogues we heard until the last season. The fourth season is all about make-ups and break-ups. The season was again an on-and-off relationship for the couple. Their relationship ended when Ross met Emily (Helen Victoria Baxendale). Ross and Emily decide to get married, but the seasons end with a twist, where Ross says her name at the altar.
In the fifth season, Ross and Rachel started as basically just friends. Rachel had few dates, whereas Ross was dealing with another divorce.
The sixth season is where Ross and Rachel get married in Vegas, where they were drunk. Their marriage idea came up when Schwimmer introduced Aniston as his wife when he was drunk at a party in real life. In this season, Ross is so upset about having three divorces at the age of thirty. He also refused to get the marriage annulled. However, they get a divorce. After the divorce, he briefly dates college student Elizabeth (Alexandra Paige Holden), while Rachel dates her father.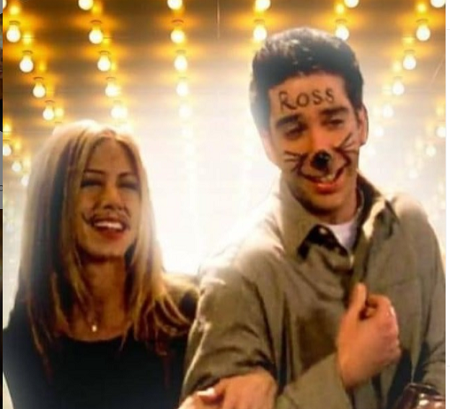 Rachel Green and Ross Geller got married in Vegas.
SOURCE: Instagram @disneyjenn71
In the seventh season, Ross and Rachel almost sleep together in the episode where Monica and Chandler get engaged. In the eighth season, they actually slept together. Rachel becomes pregnant. They are not back together but stay together as raising a family together is a huge deal for them. Ross dates Mona (Bonnie Somerville), but the pregnancy takes over, and they break up. Everything was clear until Joey shows up!
The eighth season ends up with Rachel having a baby and Ross thinking to propose to Rachel. But Rachel thinks Joey (Matt LeBlanc) did. This season is somehow complicated where Ross and Rachel have a good co-parenting balance, and Joey admits having feelings for Rachel. It was a love triangle episode. The season ends with Rachel and Joey being involved.
Rachel Green and Joey once dated in the series.
SOURCE: Instagram @warlockedts
In the tenth season, Ross attempts to date Charlie (Aisha Nilaja Tyler), whereas Joey and Rachel are a thing. Rachel gets a job offer in Paris. Rachel might just leave, but the season ends with a twist, where she changes her mind and comes back to Ross.
Want to know about celebrities and get the updates visit Article Bio.