Articlebio
https://articlebio.com/
Bruce Springsteen Enjoying Holiday with wife Patti Scialfa, Details About their Relationship and Marriage Life!
Published on

25 Aug,2017
Updated on

25 Aug,2017
Married for 26 years but still, the rock legend Bruce Springsteen and his wife Patti Scialfa share the same love and affections like they did 26 years back. Springsteen and Scialfa have set the bars high for all those couples who believe in love and ultimately wants to be together all their lives.
Like every couple, Springsteen who is nicknamed as The Boss and his co-band member wife, Scialfa experienced several twists and turns in their life. They were even highly criticised while they started dating since the rock star was still married to his first wife, Julianne Phillips, then.
Despite all the controversies, the couple is currently celebrating 26 years of blissful married life along with three children. Recently, the lovebirds made their public appearance in party capital Ibiza and impressed all the fans with their strong bonding. We have all details about the couple's and their married life here.
Bruce Springsteen Enjoying Holiday with wife Patti Scialfa
The rock legend Bruce Springsteen and his wife of 26 years Patti Scialfa are still madly in love with each other and the lovebirds don't hesitate to express their affection towards each other. According to Daily Mail, recently Springsteen and Scialfa were spotted enjoying a vacation in party capital Ibiza.
Bruce Springsteen and Patti Scialfa enjoying a vacation in party capital Ibiza
Source: Daily Mail
Sixty-seven years old 20 times Grammy winner rock star and his wife who is sixty-four were caught arm-in-arm on the beach. Springsteen appeared tanned flashing his chest below the open buttons of a pastel blue shirt and what looked like comfortable beige trousers with bare feet, whereas his wife appeared stylish in a black wrap around dress, a hat and a pair of sunnies.
Bruce Springsteen and Patti Scialfa joined by Calvin Klein
Source: Daily Mail
Also read: Oasis' Noel Gallagher shares a Tender Kiss with Wife Sara MacDonald On The Beach! Details About Their Married Life
The couple was then joined by fashion designer, Calvin Klein who appeared in a black t-shirt and white shorts and fellow rock legend, Noel Gallagher who wore white shirt and sunglasses.
Bruce Springsteen and Patti Scialfa's Married Life-Love Story
Scialfa is Springsteen's second wife. Prior to marrying Scialfa he was married to Julianne Phillips. Bruce was introduced to Julianne by Barry Bell. They tied the knot in May 1985, however, Julianne filed for divorce against Springsteen on August 30, 1988, and it was finalized on March 1, 1989.
Bruce Springsteen and Julianne Phillips
Source: Pinterest
Bruce Springsteen and Patti Scialfa first met in the early 1980s at a local bar in New Jersey where Scialfa performed along with one of Springsteen's friends, Bobby Bandiera. They quickly became friends during the time and later in 1994, Scialfa joined Springsteen's band for their USA tour.
Love started blooming between Springsteen and Scialfa during the Tunnel of Love Express Tour in 1988 while Springsteen was still married to Phillips and their divorce was in process. They soon started living together for which they were highly criticised. Despite all the criticism and the hate, they together welcomed their first child, Evan James, Springsteen on July 25, 1990.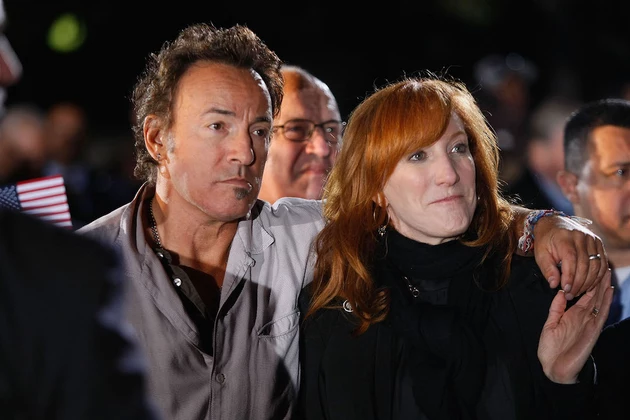 Bruce Springsteen and Patti Scialfa
Source: ultimateclassicrock.com
After 11 months of having a child together, the couple decided to take their relationship to the next level and got married on June 8, 1991, in Beverly Hills estate in Los Angeles. According to the PEOPLE, the couple exchanged vows in a candlelight wedding ceremony in front of close friends and relatives which included John Fogerty, Bonnie Raitt, Michael O'Keefe, Jackson Browne and Daryl Hannah among other celebrities.
The couple welcomed their second child, Jessica Rae Springsteen on December 30, 1991, and their third child, Samuel Ryan Springsteen on January 5, 1994.
Bruce Springsteen Quick Facts
Springsteen's birth name is Bruce Frederick Joseph Springsteen.
He was born on September 23, 1949, in Long Branch, New Jersey, U.S.
He is the son of Douglas Frederick Springsteen and Adele Ann.
He has two younger sisters, Virginia and Pamela.
His height is 1.77m.
He was raised as a Roman Catholic.
He studied at the St. Rose of Lima Catholic school in Freehold Borough and public Freehold High School.
He also attended Ocean County College but later quit his study.'
He was inspired by Elvis Presley at The Ed Sullivan Show at the age of seven.
He joined the band The Castiles in 1965 as the lead guitarist and he later became the lead singer in the band.
He is LGBT rights activist.
Patti Scialfa Quick Facts
Scialfa's birth name is Vivienne Patricia "Patti" Scialfa.
She was born July 29, 1953, and raised in New Jersey.
Her birth sign is Leo.
She was the middle child of Joseph Scialfa and Patricia Scialfa.
She has half-siblings from her father's second marriage.
She graduated from Asbury Park High School.
She started writing songs since her early age.
She earned a degree in music from New York.
She started her professional career as a backup singer for New Jersey bar bands.
Her debut solo album is Rumble Doll which was released in 1993.