American former ballet dancer-turned- actress Amanda Schull could never have imagined that she would find her pa s sion in acting- such admiration that she left her professional career as a ballet to pursue an on-screen career. Since her TV debut in 2000, Schull has notably worked in the TV series: Suits (2013-19) and 12 Monkeys (2015-18), following early fame through One Tree Hill and Pretty Little Liars.
Early Life & Family- What Is Amanda Schull's Age?
Amanda Schull was born on August 26, 1978, in Honolulu, Hawaii, the United States. Her mother Susan Schull is the current president of Ballet Hawaii and an interior designer, while the identity of her father is not yet, except he is an attorney. She has two siblings.
As of April 2021, Schull is 42 years old and has a height of 5 feet 5 inches (165 cm).
Studied Ballet On Scholarship
While attending Punahou School, Schull began to take interest in ballet and trained at Hawaii State Ballet under the instruction of John Landovsky. She then earned a scholarship at Indiana University for ballet and enrolled there at the age of 17. At the same time, Amanda sought additional training at San Francisco Ballet School Summer Intensive.
After her scholarship at Indiana University ended in 1999, the Hawaii native worked as an apprentice & later joined SFB (San Francisco Ballet) as a full-time member of its corps de ballet, until she retired in April 2006.
Acting Career Journey
Although Amanda Schull made her acting debut in the film Center Stage (2000), it was until 7 years (after retirement for ballet), she came back on-screen in 2007 through the movie Women on Top. It followed her guest appearances in TV series: The Cleaner, Ghost Whisperer, Lie to Me, and Bones in the late 2000s.
From 2009 to 2010, she portrayed the recurring cast, Katie Ryan / Sara Evans, in the TV series One Tree Hill, before landing as Meredith Sorenson in Pretty Little Liars (2010-13) starring Troian Bellisario, Ashley Benson, Lucy Hale, and Shay Mitchell.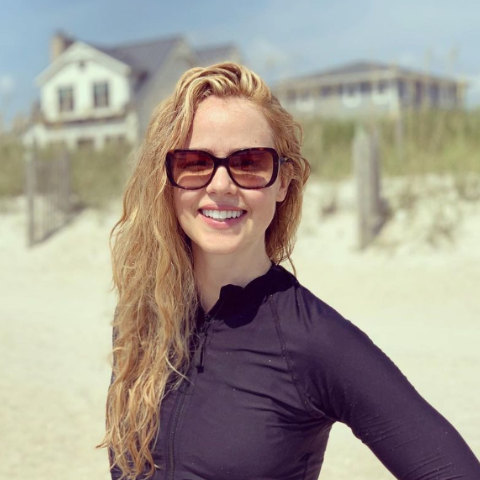 CAPTION: Acting Career Journey
SOURCE:
In 2013, Schull appeared as Katrina Bennett in the TV series Suits, where she worked as a recurring & then as main cast (Season 8 & 9) until 2019, totaling 49 episodes. There, she shared the screen with the likes of Gabriel Macht, Rick Hoffman, Sarah Rafferty, among others.
From 2015 to 2018, the American actress played the main cast Dr. Ca s sandra Railly in 12 Monkeys (47 episodes) co-starring Aaron Stanford and Barbara Sukowa. Her most recent TV works were in MacGyver (2020, TV series) and Project Christmas Wish (2020, TV film).
Estimated Net Worth of $1 Million
Amanda Schull is one of the successful and rich actresses of Hollywood. She has not revealed the figure of her net worth but sources have estimated Schull's total fortune to be $1 million in 2021.
Her 2000 film, Center Stage, was made under the budget of $18 million and the teen drama film had a box office collection of $26.3 million.
Married to George Wilson, Shares a Son Together
Amanda Schull is a married woman; she has been married to George Wilson. The couple, who first met and started dating while in high school, tied the knot in May 2011.
CAPTION: Married to George Wilson, Shares a Son Together
SOURCE:
The husband-wide duo secretly welcomed their first child, a baby boy, in February 2020, but they didn't share the baby news with the fans until March 10, 2020, & revealed their son's name was George Paterson Wilson VI.
So far, no report on any past relationship or affair of Schull is out.
She is an avid Instagram (@amandaschull) and Twitter (@AmandaSchull) with more than 362K followers & 52.9K followers respectively.