Articlebio
https://articlebio.com/
How much is Kathy Griffin's Net Worth? Find out what she is doing after the Trump Controversy!
Published on

13 Jun,2017
Updated on

11 Nov,2019
Controversies sometimes boost careers, while at times they shatter careers to bits! American stand-comedian and actress Kathy Griffin knows the later effect of controversies all too well.
A controversial picture of her holding a severed bloody head of the president of the United States, Donald Trump, got her under the bus. She has since she been fired from CNN and dragged by media as well. CNN fired her on May 31, 2017.
Despite all those controversies, Griffin has had quite a career in American Television. Let's discuss her net worth and everything money related to her! We have some exclusive details.
How much is Kathy Griffin's Net Worth, Status After Being Fired From CNN
Kathy Griffin's estimated net worth is $30 million according to celebritynetworth.com. Two times Emmy Award-winning comedian Griffin accumulated such an impressive net worth through her versatile and successful career.
Must Read, Anderson Cooper, Addresses Kathy Griffin's Trump Photo: "I want nothing but good things for her.
Fifty-nine years old Griffin who started her career with improv comedy troupe as a comedian has performed in numerous world tours which became her main source of income.
Kathy Griffin in tears apologizing after the controversial photoshoot
Source:billboard.com
Advocate for the LGBT community, Griffin's career rose to stardom after her performance on NBC sitcom 'Suddenly Susan' and 'Seinfeld.' She also performed in numerous HBO comedy specials and as the co-host for New Year's Eve special on CNN which also help to extend her net worth.
She released several comedy albums, one of which made her Grammy Award winner for the best comedy albums. She also wrote the best-selling autobiography, Official Book Club Selection: A Memoir According to Kathy Griffin which also helped her to maintain her net worth. She also hosted many talks shows on CNN.

Now, that she is fired from CNN, what will become of Kathy Griffin? Well, even though journalism media requires political correctness, comedy doesn't and that is Griffin's best suit. We are guessing she'll go back to comedy!
Journey To $30 Million
Kathy has racked up the majority of her aforementioned net worth from her career as an actress and comedian. She has worked in dozens of successful movies and TV shows. Besides, Griffin is an author who released two books Official Book Club Selection, in 2009 and Kathy Griffin's Celebrity Run-Ins: My A-Z Index, in 2016. It is also a major source of income.
Kathy Griffin's Assets
Kathy Griffin owns a stunning and stylish mansion worth $10.5 million which is located in Bel Air. With an area of 13,377 square feet, the Mediterranean-style estate consists of nine-bedrooms and twelve bathrooms.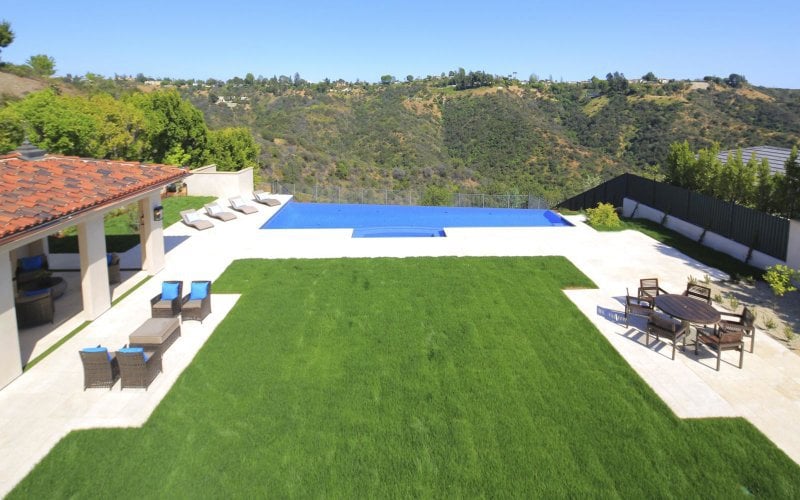 Kathy Griffin's mansion in Bel Air
Source:popsugar.com
The mansion hosts a large family room, a private theater, and a suite room whereas outside there is a large pool and long drive. In the year 2004, Kathy threw down $2.85 million to buy her Hollywood Hills mansion located in California.
Car Collection
Besides, the actress has also a huge car collection. She owns the 2004 Mercedes-Benz Sl 500. She is also a proud owner of Maserati Quattroporte V.
What is Kathy Griffin Doing After Her Trump Controversy?
Comedian icon, Griffin was fired from many programs due to her non-filtered commentary, on May 20, 2017, in a video in which she was holding up a bloody and severed but a Donald Trump's head.
She also captioned it:
"I caption this 'there was blood coming out of his eyes, blood coming out of his…wherever,"
Due to this scandal, she was criticized all over the world and CNN fired her on May 31, 2017, with the statement "We found what she did disgusting and offensive. We are pleased to see she has apologized and asked that the photos be taken down."
I am sorry. I went too far. I was wrong. pic.twitter.com/LBKvqf9xFB

— Kathy Griffin (@kathygriffin) May 30, 2017
And also all her tours were canceled. Later, she apologized for her actions. On her Twitter post, she begged for forgiveness. She also held a press conference in which she claimed that the Trump family is trying to destroy her and broke into tears.
She said:
"I don't think I will have a career after this,"
She added:
"He broke me, he broke me, and then I was like, 'This isn't right, it's just not right, and I apologized.'"
Looks like Griffin is having a really hard time. She, however, vowed she will not stop criticizing the president.
Quick Facts About Kathy Griffin
Kathy Griffin was born Kathleen Mary Griffin on 4th November 1960 in Oak Park, Illinois under the birth sign Scorpio.
Griffin is American as per nationality and belongs to White ethnicity.
She is the daughter of Mary Margaret Griffin and John Patrick Griffin.
She has four siblings Kenny Griffin, Joyce Griffin (died in 2017), Gary Griffin (died in 2014), and John Griffin.
When he was young, she developed a binge eating disorder.
Griffin attended St. Bernadine's Elementary School and Oak Park and River High School.
She has recorded 16 TV specials which broke the Guinness World record for the number of aired TV specials.
She won Primetime Emmy Awards twice.