Articlebio
https://articlebio.com/
Why did Tom Cruise and Katie Holmes' marriage end? The couple divorced in 2012
Published on

04 Apr,2017
Updated on

13 Dec,2017
Katie Holmes and Tom Cruise's high-profile Hollywood marriage couldn't last longer than 5 and a half years. They divorced on August 20, 2012.
Remember when they were so in love and Tom Cruise made a doodle for Kaite Holmes on the top spire of the Burj Khalifa; the world's tallest building while filming for Mission Impossible: Ghost Protocol? What made such a love story to end in divorce? Find out the reason behind Tom Cruise's divorce from Katie Holmes, here.
Why did Katie Holmes divorce Tom Cruise?
In June 2012, Katie Holmes announced her plans to divorce her husband of five years, Tom Cruise. The couple who were so in love once was all of a sudden among controversies. It was reported that Tom Cruise was controlling and often manipulative as a husband.
Tom Cruise was accused of taking charge of Holmes' movie roles, changing her name and even deciding on where she makes appearances. The couple shared used to live in a building in the Scientology complex in LA. Did Scientology ruin their marriage? That seems to be the case.
Katie Holmes and her daughter Suri
Source: NYdailynews
Tom Cruise has on record said that Scientology is a beautiful religion. Katie reportedly got worried for their daughter Suri as Tom wasn't willing to waver from his faith. When Tom Cruise appeared on the cover of W magazine in June 2012 draped by two women Katie Holmes reportedly snapped and felt like she needed to act.
Tom Cruise on W magazine
Source: Wmagazine.com
Cruise himself stated in 2013 that Holmes divorced him to protect their daughter from Scientology. He went on to add that Suri, his daughter, is no longer a practicing member of the Church of Scientology. His publicist of 14 years resigned in 2014 after Cruise came out with such personal information.
When did Katie Holmes divorce Tom Cruise? What was the divorce settlement like?
Katie Holmes and Tom Cruise got divorced on 2oth August 2012, after 5 and a half years of marriage. Reportedly, Katie was asking for a division of property in the divorce documents, however, there is a significant prenuptial agreement with instructions as far as divorce settlement is concerned. The pair is worth around $275million, much of that comes from Tom Cruise's successful box office record.
Tom Cruise and his third ex-wife Katie Holmes
Source: Wordpress
According to the prenup, each year the couple stays married Katie Holmes collects $3million to a maximum of $33 million after 11 years of marriage, and as well as their palatial home in California.
If their marriage had lasted more than 11 years, Holmes would have received half of Cruise's reportedly $250million fortune. After filing for divorce less than six years later, Katie became eligible for only $15 million and the couple's $35million Beverly Hills Mansion.
When did Tom Cruise and Katie Holmes get married?
Their fairy-tale wedding came two years later after Katie famously revealed to Seventeen magazine in 2004 that she used to think she was going to marry Tom Cruise. In 2005, Tom Cruise was on The Oprah Winfrey's Show literally jumping on the couch while declaring his love for the actress.
katie Holmes and Tom Cruise got married on November 18, 2006. The lavish wedding ceremony was held at the 15th century Odescalchi Castel in Bracciano, Italy. Katie wore two custom gowns by Giorgio Armani including one strapless lace gown covered with thousands of Swarovski crystals that reportedly took 350 hours to place.
Katie Holmes and Tom Cruise
source: Pinterest
This duo shared vows in front of a star-studded guest list that included the likes of Will Smith, Jada Pinkett Smith. The ceremony was attended by Cruise's Scientologist pals John Travolta and Kelly Preston as well.
David Beckham and Victoria Beckham, Jim Carrey, Jennifer Lopez and Marc Anthony also attended the event. Former Scientologist Leah Remini was also in attendance as well. Following the stunning ceremony, Holmes and Cruise spent their honeymoon vacationing in the Maldives.
Katie Holmes' life after the divorce from Tom Cruise:
Tom Cruise and Katie Holmes' marriage was a huge Hollywood spectacle and the divorce was even a bigger one. It's been 6 years since their divorce and every time a new relationship happens in either Toms's or Katie's life, their marriage is sure to follow the conversation.
in 2015 Katie Holmes addressed the matter to Ocean Drive saying:
"I don't really regret anything that I've done. I've learned from everything, and everything sort of leads you to the next place. I just keep going".
After six years of marriage, it was announced that Holmes had filed for divorce and for full custody of daughter Suri. A lot has been said about the couple's courtship and married life. However, the announcement of their divorce broke the hearts of many of their fans.
Is Katie Holmes dating Jamie Foxx?
At first, the news came as a rumor but now it seems Katie Holmes and Jamie Foxx are in fact dating. The duo was spotted on a dinner date recently.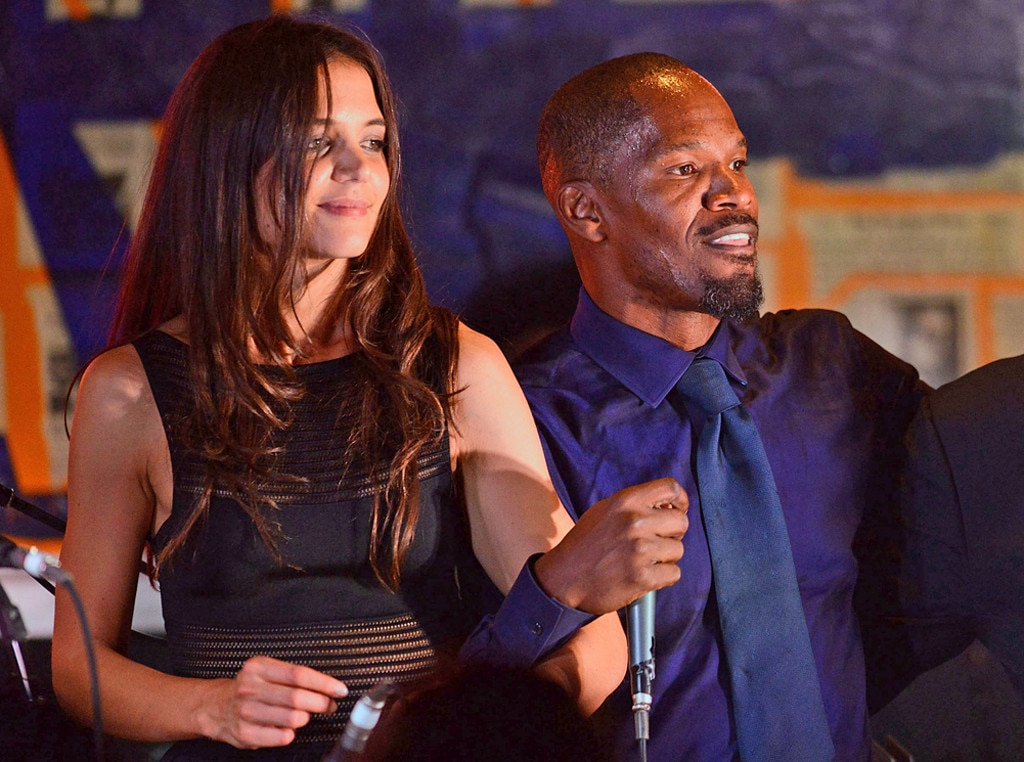 Katie Holmes dating Jamie Foxx
source: eonline.com
Katie has indeed endured a lot over the years. But, despite all the heartache and hardships, Holmes has faced in her personal life, she has always kept a positive approach towards everything. Since they spent a vacation together in Paris, fans are speculating about their dating.