Articlebio
https://articlebio.com/
Kristofer Hivju is Married to Gry Molvær Hivju and Living blissfully as Husband and Wife
Published on

15 Jun,2017
Updated on

31 Mar,2019
If you have ever watched the famous television series Games of Thrones, then you definitely will know Kristofer Hivju aka Tormund Giantsbane. You are aware of his on-screen affairs and relationship. But today we will open up about his off-screen life here.
A true friend and a brave fighter, Tormund Giantsbane is a real life darling and a decent Norwegian man. He is not as wild as he is shown in the series and is a very handsome man with a strong physique, big built and knight's look who makes every ladies wonder if the red headed gentleman is from Mars. So, let's find out all about Kristofer's married life.
Kristofer Hivju's Married Life
Who would have guessed the leaders of free Folks, Kristofer is a married man and has two adorable daughters with his lovely wife. The family seems complete with a devoted couple and adorable children. Well, we know now you are curious to find out more about his wife and daughters; Hopefully, you are still with us, scroll down to see Hivju's beautiful wife.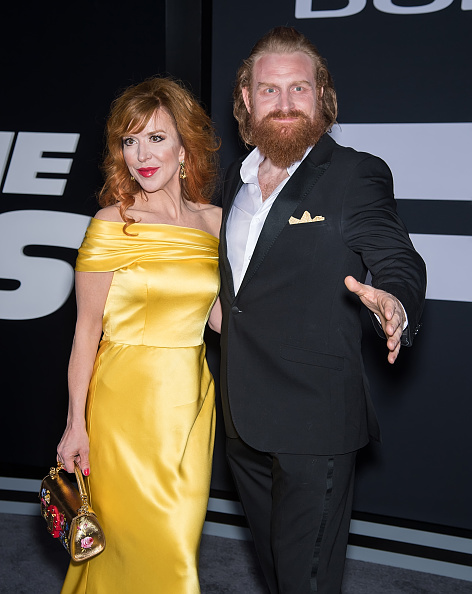 Kristofer and his wife during Red Carpet of Fast and Furious 8, Source: Getty Images
Let's see how deep is the chemistry between them, Hivju married his longtime girlfriend Gry Molvær in 2015. The couple is happily married without any divorce rumors. Kristofer and Gry are seen attending several events together.
Also read: Dave Rienzi, The Rock's Personal Trainer Married His Ex-Wife, All The Details Here
In 2016, Hivju appeared on the red carpet event of the Fast and Furious eight. The movie featured Vin Diesel, Dwyane Johnson, Kristofer himself, Nathalie Emmanuel and other Hollywood stars.
The GOT star Kristofer seems deep in love with his wife. On 22 August 2016, he shared a beautiful message for successful completion of the first year of their marriage via his Instagram. Even they frequently share their lovely moments spends together via Instagram.
Kristofer Hivju Aka Tormund Giantsbane
Kristofer Hivju has been portraying the fictional character of Tormund Gintsbane. Tormund is a wildling raider, he is not a point of view character in the novels, so his actions are witnessed and interpreted through the eyes of the Jon Snow and other characters.
Tormund arrives in the third season in 2013 and since then he has been in Wildling camp. We will get Tormund and other GOT character's current affairs after few days when GOT's 7th season premiered on 16 July 2017.
Lesser-known Facts About Kristofer's Wife
Kristofer's wife Gry Molvær other than being his spouse is also a popular Journalist and Photographer. She is famous for her work with the BBC Network. She currently hosts BBC1's research magazine show Schrödinger's cat in her hometown Norway.
She graduated in journalism and political science from the Molde University College. Gry started her career from NRK's district office. Gry is also one of the prominent photographers of Norway. Her photographic work has featured in several exhibitions in Norway.
Quick Facts About Kristofer Hivju
He is 40-year-old as of 2019.
He is originally from Oslo, Norway.
He started his acting career in 2001.
Hivju first worked in Norwegian film and television shows.
His first English language film is After Earth.
He rose fame after appearing in GOT.
He is currently filming Norwegian TV series TWIN.