Articlebio
https://articlebio.com/
Yogi and Humanitarian Sadhguru Jaggi Vasudev's Journey to Enlightenment, Five Interesting Facts
Published on

20 Jun,2017
Updated on

09 Feb,2020
"There is nothing else to do here except live. The only choice you have is to either live superficially or in a profound manner" – Jaggi Vasudev (Sadhguru)
A Yogi Mystic, Visionary and Humanitarian leader Jaggi Vasudev, is a New York Times best-selling author. He is the founder of Isha Foundation, a nonprofit organization which offers yoga programs around the world, including India, The United States, UK and other countries of the world.
On 13, April 2017, the Government of India honored him with the highest civilian award Padma Vibhushan award for his contribution to the larger well-being of humanity.
We are celebrating International Yoga Day with five interesting facts about Yogi Sadhguru Jaggi Vasudev.
Five Interesting All Facts You Need To Know About Sadhguru
1. Sadhguru is Enlightened
Sadhguru is a living Enlighted Spiritual Master of recent times. His name is included in the list of living enlightened spiritual master which also consists German author and spiritual master Eckart Tolle, Jamaican philosopher Mooji - American/Indian spiritual teacher Gangaji, Hindu Spiritual Master Sri Sri Ravi Shankar among others.
Jaggi Vasudev (Sadhguru), Source: Isha Foundation
Sadhguru felt he had an incomplete task lingering in the deepest reaches of his mind at a young age which led him to enlightenment.
He shared his enlightenment experience in one of his lectures. On September 23, 1982, he rode up Chamundi Hill in Mysore City, Bangalore (his hometown) and went to a particular rock – a huge rock wish was his usual place and sat there with his eyes open.
After a few minutes he experienced an unusual feeling which was beyond his imagination and in that moment he thought it was not him someone else in him.
He thought this madness lasted for 5- 10 minutes but when he came back to his normal way of being, he had spent four-and-a-half hour that way. He was sitting right there fully conscious, that was the day Jaggi Vasudev got enlightened and became Sadhguru.
2. Sadhguru Was Quite Fond of Adventures and Bike Riding since his Childhood
As a child, he was active, curious and intelligent, he also had great interest in and love for adventures. He started doing Yoga at the age of 12, under the guidance of his teacher Malladihalli Sri Raghavendra Swamiji – Jaggi did a short course with him and continued practice as he thought it changed his life.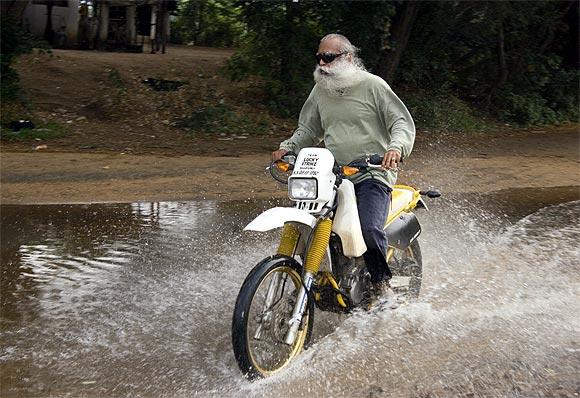 Sadhguru riding bike, Source: Rediff
When he was young, he was fond of motorbike riding – he traveled across India on motorbikes with his friend. They usually went to Chamundi Hill, the same spot where he was later enlightened, and enjoyed the nature. He quit his roadie life and started teaching yoga and preaching spirituality once enlightened.
3. Sadhguru Established Isha Foundation
After his enlightenment, Sadhguru started teaching yoga and life's principles to people. As his journey continued he established Isha Foundation in 1992. It locates at Coimbatore, Mysore. Isha Foundation offers yoga programs and unifies social and community initiatives to promote humanitarian efforts and nature conservation.
Being #secular and being #spiritual are not contrary. "Secular" is therefore not a new idea.https://t.co/oNQOM4QkHN

— Sadhguru (@SadhguruJV) June 20, 2017
Isha Foundation runs several projects which help to improve people's physical and mental awareness. The main project of Isha is Project Green Hands, which aims to plant 114 million trees throughout Tamilnadu State and increase the forest area in the state to 33 percent.
4. Sadhguru's Awarded Highest Civilian Honor
In April 2017, the Indian Government honored him with Padma Vibhushan Padak, which is the highest civilian award provided by the Indian Government.
There is no such thing as ancient yoga or modern yoga. #Yoga is about the human mechanism. It is relevant for all times. –Sg #YogaDay

— Sadhguru (@SadhguruJV) June 19, 2017
In 2012, Sadhguru's Project Green Hands was awarded the Indira Gandhi Paryavaran Puraskar by the Government of India. He is one of the respectable yogi and spiritual masters of the World who has played a significant role in the wellbeing of millions of people.
5. Sadhguru, A New York Times Best-Selling Author
Sadhguru is a renowned author who has written several books in English, Tamil, Hindi, Kannada, and Telugu. His book Inner Engineering: A Yogi's Guide to Joy, was the New York Times best-selling books in 2016. ''This book is one of the memorable books of the year,'' wrote Washington post.
Sadhguru's book Inner Engineering, Source: Amazon
Sadhguru believes 'there is a science and technology to create eternal wellbeing, there are a whole science and technology for inner wellbeing.'' The Isha Foundation runs Inner Engineering: A beginner workshop for those who want to connect with the concept of spirituality and Yoga.
My biggest weakness is I love danger. https://t.co/4P4zT8DX90 #SadhguruSpot

— Sadhguru (@SadhguruJV) June 7, 2017
Sadhguru himself and his fellows conduct workshops in several parts of the world. If you are really interested and do not have much time to attend in person, you can learn online as well. His preachings are also popular on YouTube and he also appears weekly on the talk program called A Conversation with the Mystic where he talks to various Bollywood celebrities, Karan Johar for example.