Articlebio
https://articlebio.com/
Tanner Fox's Girlfriend Taylor Alesia, all the interesting Facts about their Relationship
Published on

27 Jul,2017
Updated on

06 Jun,2019
Tanner Fox's handsome looks might have earned him his millions of fan following, but he is more than his looks. The 17-year-old youtube star is also a professional stunt scooter rider who has demonstrated his craft on his self-titled YouTube channel for more than 8.79 million subscribers as of 2019. The YouTuber star has also a considerable fan following on his Instagram account.
His extreme good looks and charming personality attract tons of females towards him. But the question is if he is attracted to any girl. So, today we are going to discuss his personal life; the details about his love affairs and dating life.
Tanner Fox In a Romantic Relationship With Taylor Alesia
Yes, you read that right. The handsome hunk, Tanner Fox, is dating! He is openly in a relationship with social media sensation Taylor Alesia. The loving couple has posted a number of beautiful pictures on their social media. Along with her boyfriend, Taylor also featured in several YouTube videos.
Romantically linked boyfriend and girlfriend: Tanner Fox and Taylor Alesia
The couple started their affair earlier this year and they are already showing signs of #relationshipgoals. How do we know this? Well, Tanner Fox's Instagram posts speak for themselves, his relationship with Taylor Alesia is absolutely adorable. Here are the top photos from Tanner's girlfriend Taylor Alesia's Instagram, you may be interested to know.
Here're some of the romantic moments Tanner has shared on his Instagram. Judge for yourself!
He captioned the following post:
"Not sure what makes this video... the cotton candy, that view from the Ferris wheel, or my beautiful girlfriend''
A couple who travel together, stay together! The caption for this one is super adorable as well:
''I swear it said "PLEASE climb on rocks" oops... #5monthsandcounting.''
#Shenanigansgoals?
Tanner Captioned this one:
''lowkey bouta toss her in the water''
Don't you want a relationship this adorable?. Well, who wouldn't, right?
Being the millennial couple that they are, Tanner and Taylor love sharing cute moments on social media. Tanner even shared a picture in which he was sharing a kiss with his girlfriend. Check it out.
This is the first time that Tanner Fox is romantically linked to anyone, publicly at least, while his girlfriend has already gone through several unsuccessful relationships. Tanner has $800K thousand net worth from his YouTube career.
Taylor Alesia previously dated another social media sensation, Taylor Canniff, but later they called off their relationship without citing any specific reason.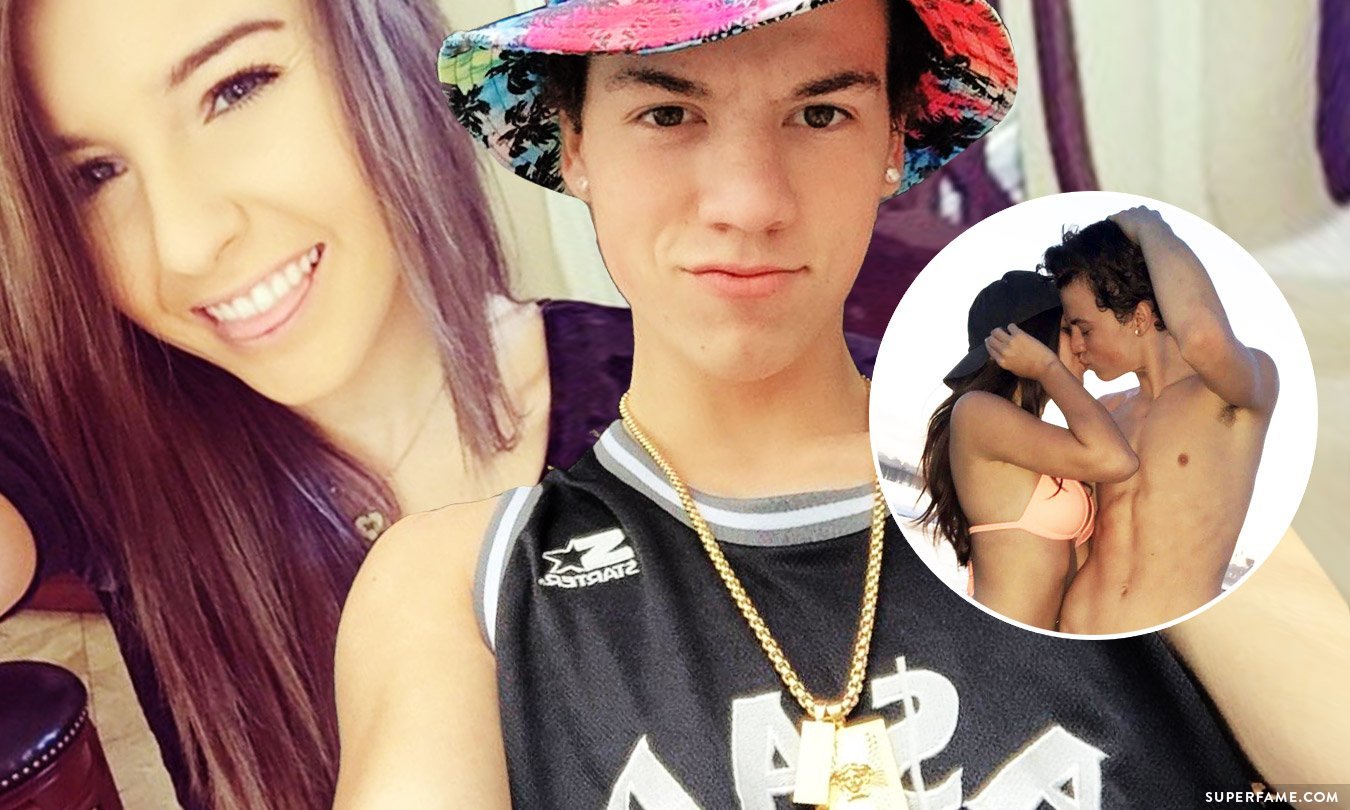 Former boyfriend and girlfriend: Taylor Caniff and Taylor Alesia
Source: superframe
Later, she went on to date another social media personality Mikey Barone. And after the break up with Mikey Alesia is now deep in the romance with Tanner Fox. The couple spotted in various places sharing their romance.
We wish them all the very best for them for their future.
Quick Facts on Tanner Fox
Tanner Fox was born on December 22, 1999, in the United States
Fox created his first YouTube channel under name MTfilms in September 2011 and posted his video subsequently.
He is currently dating girlfriend Taylor Alesia who is also a social media personality.
His current girlfriend Taylor Alesia was born on October 13, 1996, in New York.
She holds American nationality and as far as his ethnicity is concerned he is White.