Paul Wesley is an American actor, director, and producer, most known for playing Stefan Salvatore in The CW vampire romantic-drama series, The Vampire Diaries. Since the show's end, Wesley has ventured to other screen projects, most notably in the CBS anthology series, Tell Me a Story.
Notable Television Roles in The Vampire Diaries, Tell Me a Story & Defending Jacob
Paul Wesley's first on-screen role came in 1999 as Max Nickerson in the CBS soap opera, Guiding Light. He landed the role while a junior in high school. After minor television appearances, Wesley starred as Luke Cates in the short-lived CBS supernatural drama, Wolf Lake.
His first feature film role was an uncredited role in Steven Spielberg's 2002 sci-fi drama, Minority Report, starring Tom Cruise and Colin Farrell.
Throughout the early-to-mid-noughties, Wesley had a string of guest appearances in television shows like Law & Order: Criminal Intent, Smallville, The O.C., and CSI: Miami.
He played Tommy Callahan in the second season of The WB drama series, Everwood; and had recurring appearances as Tommy DeFelice in the NBC drama series, American Dreams.
Paul Wesley and Nina Dobrev in The Vampire Diaries
SOURCE: PopCrush
In 2009, Wesley landed his biggest role as Stefan Salvatore in The WB vampire romance-drama series, The Vampire Diaries. starring alongside Nina Dobrev and Ian Somerhalder. He starred as Stefan throughout the show's eight-season run from September 10, 2009, to March 10, 2017.
In recent years, Wesley has played various characters in the CBS psychological thriller anthology series, Tell Me a Story, and had recurring appearances as Bobby in the Apple TV+ drama miniseries, Defending Jacob, starring Chris Evans and Michelle Dockery.
The 37-Year-Old Was Born To Polish Parents
Paul Wesley was born Paweł Tomasz Wasilewski on July 23, 1982, to Polish parents Tomasz and Agnieszka Wasilewski. The only son of four, Paul was born in New Brunswick, New Jersey, and raised in Marlboro Township, New Jersey.
He is fluent in Polish, thanks to his parents' insistence on him spending four months every year in Poland until he turned 16. Wesley studied at the Christian Brothers Academy in Lincroft, New Jersey, and later, Marlboro High School. His first acting gig came when he was a junior in high school after which he transferred to Lakewood Prep School in Howell, New Jersey so that he could continue working.
He enrolled at Rutgers University in New Jersey but dropped out after the first semester to pursue his acting career.
Married Since February 2019 To Ines de Ramon
As of this writing, Paul Wesley is twice married. He wed Ines de Ramon in February 2019 in secret.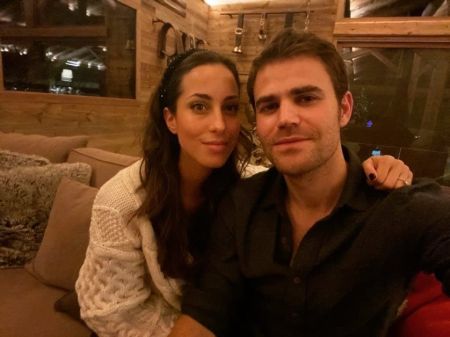 Paul Wesley and his wife, Ines de Ramon
SOURCE: Tuko
His first marriage with his Killer Movie co-star Torrey DeVitto lasted from April 16, 2011, to December 23, 2013. After their divorce, Wesley dated his Vampire Diaries co-star Phoebe Tonkin until 2017.
Net Worth Of $6 Million
As of July 2020, Paul Wesley has a reported net worth of $6 million. The primary source of his net worth is his acting career. His most commercially successful role is his role in The Vampire Diaries and in later seasons, Wesley also directed episodes and produced the final season.