Maralee Nichols is a fitness model and personal trainer who rose to fame in 2021 after it was revealed that she had conceived a child with NBA star Tristan Thompson. Since then, she has become a popular figure in the media, with many people wanting to know more about her.
Nichols was a competitive bodybuilder and personal trainer. She competed in several muscle and bikini shows and eventually obtained her license as a personal trainer. She also obtained her brokerage license for multiple states and worked in real estate.
The Cooperative Relationship OF Maralee Nichols and Tristan Thompson
Maralee Nichols and Tristan Thompson have been in the news recently due to their complicated relationship and the paternity case that ensued. The two met in 2020 at a party at Thompson's Encino, California home and began a relationship that has been the subject of much speculation.
In March 2021, Thompson invited Nichols to Houston for his birthday. The two spent the weekend together and then Thompson invited Nichols to visit him in Boston. It was during this visit that Nichols learned she was pregnant.
Maralee Nichols her ex-boyfriend Tristan Thompson the Canadian American Basketball Player.
SOURCE: Instagram
Nichols told Thompson about her pregnancy at the end of April when he invited her to see him in North Carolina. Thompson initially denied that the two had anything more than a one-night stand, but later clarified that they had consensual, casual sex on a sporadic basis between December 2020 and March 2021.
The two have not been married, but they have a child together, a son born on December 1, 2021. Nichols has stated that she does not want any further media attention or a romantic relationship with Thompson and that her goal is to raise their son in a safe, healthy, loving and private environment.
Tristan Thompson's Son Biological Mother Maralee Nichols
Maralee Nichols' life took a dramatic turn when she became known as the mother of Tristan Thompson's child. The unfolding of this story, entwined with the complexities of public relationships, made headlines.
In 2020, Maralee and Tristan Thompson first crossed paths at a party in Encino, California, hosted at Thompson's residence. It was at this event that Tristan conveyed to Maralee that he was not in a committed relationship, emphasizing his active co-parenting role.
Their connection deepened over time, marked by frequent communication, including daily conversations over the phone and regular in-person meetings. Their relationship transcended seasons, spanning Christmas, New Year's Eve, and even Tristan's birthday.
The Custody and Divorce Battle In Maralee Nichols's Life
The saga continued with a custody and divorce battle that unfolded in 2021. Maralee Nichols filed a paternity suit against Tristan, asserting that he was the father of her child. A paternity test confirmed her claims, leading the Los Angeles court to grant Maralee sole custody of their son, Theo. Additionally, Tristan was ordered to pay $9,500 in monthly child support.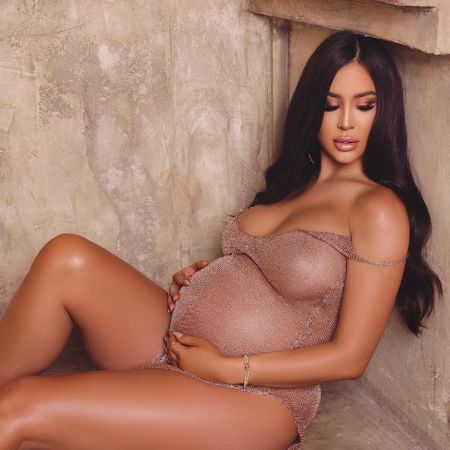 CAPTION: Maralee Nichols's pregnancy announcement of Tristan Thompson's son.
SOURCE: Instagram
Tristan's initial denial of fatherhood and lack of interest in meeting the child painted a tumultuous picture. However, he later expressed a desire to "amicably raise" their son. With Tristan's four children, including a son with his ex-girlfriend Jordan Craig and a son and daughter with Khloe Kardashian, reports indicated substantial child support payments, estimated at approximately $1.9 million annually.
As for Maralee, while she sought a similar payment, she ultimately received a different amount. The custody schedule for Theo remains undecided, awaiting future determinations.
The Wealth OF Maralee Nichols And Her Child Support
Maralee Nichols has achieved a net worth of around $2 million, primarily through her career as a fitness expert and personal trainer. Her dedication to physical fitness and her entrepreneurial spirit have allowed her to excel in her field. Additionally, brand endorsement deals have contributed significantly to her financial success.
It's worth noting that Tristan Thompson's monthly child support payments of $9,500 also play a role in bolstering her net worth. Maralee's social media presence, with over 250,000 followers on Instagram, further enhances her income potential. As an influencer, she has the opportunity to secure lucrative brand endorsements in the future.
The Tristan Thompson And Maralee Nichols
Tristan Thompson, a Canadian professional basketball player, played a pivotal role in Maralee Nichols' journey. His association with the Cleveland Cavaliers of the National Basketball Association brought him into Maralee's life, ultimately leading to the birth of their son.
Maralee Nichols is the fitness model and personal trainer and the mother of NBA star Tristan Thompson's son.
SOURCE: Instagram
However, their relationship wasn't without its share of challenges. Allegations emerged regarding child support and expenses related to Maralee's pregnancy. It was revealed that Tristan, who was still dating Kim Kardashian at the time, allegedly offered Maralee $75,000 to terminate her pregnancy. These controversies added layers of complexity to Maralee's life, highlighting the hurdles she faced.
Professional Journey and Achievements Of Maralee Nichols
Maralee Nichols' professional journey is a testament to her commitment to fitness excellence and culinary artistry. She has served as a celebrity personal fitness trainer, guiding clients toward healthier lifestyles. Notably, her clientele has included NBA star Tristan Thompson, solidifying her reputation in the industry.
Beyond her training endeavours, Maralee has made a name for herself in bodybuilding and bikini competitions, showcasing her unwavering dedication to physical excellence. Her website, maraleefitness.com, serves as a platform to extend her expertise through Online Fitness Training and Weight Loss Meal kits.
Early Life and Family Of Maralee Nichols
Maralee Nichols hails from Sacramento, California, where she was born to parents Mark and Marlene Nichols. Growing up, she had the companionship of two siblings: a brother named Mark Jr. and a sister named Melissa.
Maralee's parents, now retired, provided a nurturing environment for their children. Mark Jr., following a different path, ventured into real estate, while Melissa embraced the role of a dedicated stay-at-home mom.
Maralee's academic journey led her to the University of California, Davis, where she majored in psychology. Her dedication and hard work culminated in her graduation in 2019, earning her a Bachelor of Arts degree. Education played a crucial role in shaping her worldview, and her academic accomplishments reflect her commitment to personal growth.
Be With Article Bio for more informational articles.