Articlebio
https://articlebio.com/
How is American Model Rebecca Gayheart's Marriage With Husband Eric Dane After The Private Video-Tape Leak?
Published on

21 Oct,2017
Updated on

31 Dec,2019
American model and actress Rebecca Gayheart and her husband Eric Dane were quite in a controversy after a without cloth videotape of them alongside Miss Teen USA contestant Kari Ann Peniche leaked back in 2009. Despite all the controversies, the couple is still going on great.
Together for over a decade, Gayheart and her husband Dane make one of the most committing couples in Hollywood. They are currently in their 13th year of blissful married life, and have two daughters: Billie Beatrice Dane and Georgia Geraldine Dane together.
American Model Rebecca Gayheart's Married Life With Her Husband Eric Dane
Model Rebecca Gayheart and her husband Eric Dane are married since 2004. The Grey's Anatomy star, Eric Dane, proposed his then-girlfriend Rebecca Gayheart after dating for about ten months.
Eric Dane and Rebecca Gayheart in an event
Source: laineygossip.com
In an interview, the actor revealed he was nervous while proposing his wife but explained it was one of the best decisions he ever made.
He shared:
We were having dinner at a restaurant and she asked me if I ever did anything impulsive and I said, 'Like what? Ask someone to marry me?' and she said, 'Yeah, something like that,' and I said, 'Do you want to marry me...?'
He added:
I was terrified and she said, 'Yes,' I said, 'Cheque,' we got the cheque, jumped in my car, we got the last flight out of Los Angeles to Las Vegas. We've been happily married ever since and we have two beautiful little girls.
After six years of blissful married life, the couple welcomed their first daughter together, Billie Beatrice Dane, on March 3, 2010. After a year of giving birth to Billie, the model gave birth to their second daughter, Georgia Geraldine Dane, on December 28, 2011.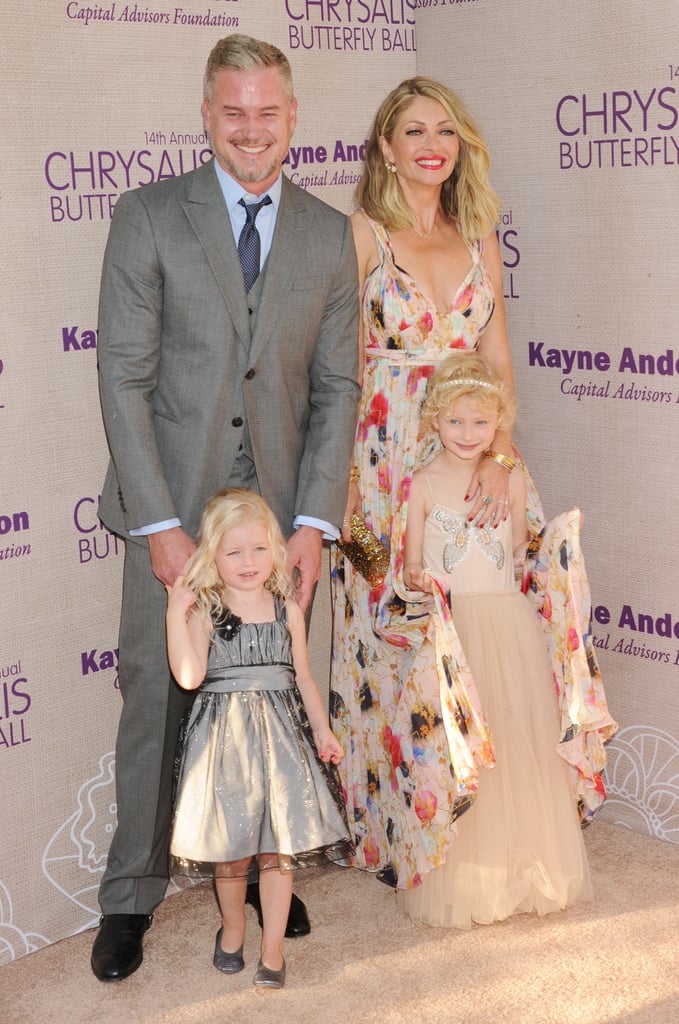 Eric Dane and Rebecca Gayheart with their daughters in an event
Source: Pop Sugar
Rebecca Gayheart and Eric Dane are married for over a decade now and it seems to be getting only better with time.
The couple appears together in several events, most recently, they appeared together at the red carpet event of the 16th annual Chrysalis Butterfly Ball in Brentwood along with their two daughters Billie and Georgia.
The forty-six years old mother of two shared the picture of the event on her Instagram on 4 June 2017 with the caption:
"We always make this a family affair ..... I want my girls to know how important it is to give back. Thank you @chrysalisla. My girls are the luckiest ducks wearing the gorgeous @tutudumonde @modernqueenkids . Shout out to @albrightfashionlibraryla #butterflyball #chrysalis #mylittlefamily #giveback."
She shared her family's summer plans at the event, saying:
"Daddy's working in town, so we're going to be hanging close, we'll be in Malibu a lot, a lot of local trips visiting family,"
This is sure a tight family!
Rebecca Gayheart and Eric Dane's Private Video Tape Leaked
Back in 2009, the couple hit the headlines after their private video was leaked. On 17 August 2009, the website gawker.com leaked a nude video of the couple along with Miss Teen USA contestant Kari Ann Peniche.
In the 12 minutes-long video, no any sexual acts occurred, however, they were all without cloth and looked very druggy. The couple later sued the website for violating their legal and privacy rights.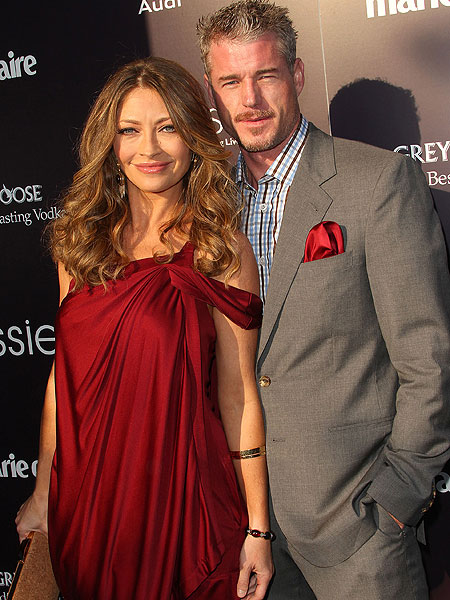 Rebecca Gayheart and Eric Dane
Source: Extra
Dane later revealed in an interview that it was a mistake,
"We've all made mistakes. My one regret is that I got the person I love most wrapped up in all that: Rebecca."
Despite the ugly scandal, Gayheart and Dane are till date happily married. Eric Dane credits Rebecca Gayheart with helping him come out from his dark alcoholic past. Even though 'McSteamy' ( Eric Dane's nickname from his Grey's Anatomy part) doesn't consider himself sober, he says he is happier than ever.