Articlebio
https://articlebio.com/
Here's How Rich LeBron James is! All His Cars, Houses and Income Information!
Published on

06 Jun,2017
Updated on

10 Aug,2017
Lebron James is a professional basketball player known for the Cleveland Cavaliers of NBA. Lebron is arguably the most popular player today but in the NBA standards, Lebron James is still a baby.
Lebron has plenty of endorsements which bring him $53 million yearly. He has earned name and fame in the very short period of time. His fans are eager to know about how much does their favorite player earn.
How does the Akron Ohio based competing basketball player spend his money? Today, we'll discuss the award-winning basketball player, Lebron James, his net worth and everything money that's related to him.
How Much is Lebron James Networth?
The NBA Champion, LeBron James, has a net worth of $340 million. In addition to his contracts and endorsement deals, LeBron James made $23 million in salary from the Cleveland Cavaliers. He roughly earned $54 million from endorsements during 2014 and 2015 season.
Image: LeBron James
Source: Instagram
That brings LeBron James' total annual income to become roughly $77 million. During his first 10 seasons in the NBA, LeBron James made just over $126 million in salary alone!!
During the same time period, LeBron earned an estimated $326 million from endorsements. When you total it all up, just the given revenues, LeBron has earned slightly over $500 million during his career. That's a lot!!
LeBron James still has endorsement deals with dozens of companies including Baskin Robbins Samsung, McDonald's, Beats by Dre, Coca-Cola, Microsoft, State Farm, Beats by Dre, Coca-Cola, Dunkin-Donuts, Baskin Robbins Samsung, Nike among many others. In addition to endorsing Beats by Dre, James also owned 1% of the company.
LeBron earned royalty payments in total $1 million during his years a spokesman. When the company, Beats by Dre, sold a royalty to Apple for $3 billion, LeBron took home $30 million.
To top that fact, James signed his first Nike endorsement deal when he was just 18! How unbelievably amazing is that?
The deal paid $90 million over seven years, $12.8 million per year. As of now, LeBron earns $20 million yearly from Nike in the form of salary and royalty payments for his signature shoe line.
Lebron James and His Lavish Lifestyle
The 32-year-old NBA basketball player, Lebron James, owns a luxurious Miami Florida house worth $9 million. He has another astonishing Akron, Ohio mansion that costs around $2.1 million.
James is also fond of expensive diamond rings, designers brands, and deluxe fashionable cars.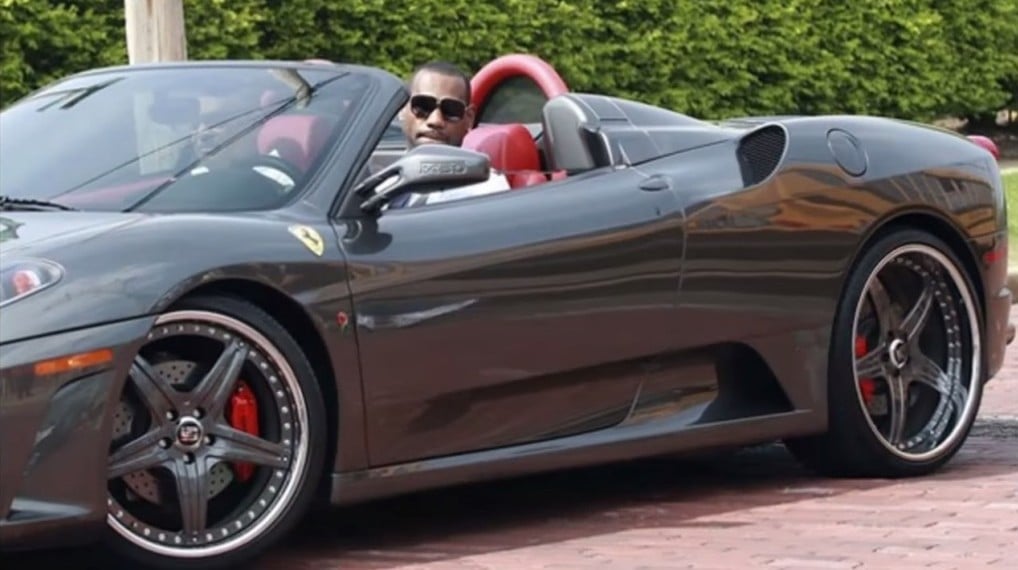 Image: LeBron James' luxurious car
source: The Cheat Sheet
Lebron has owned eight cars altogether; Ferrari F430, 2010 Camaro SS, Maybach 57S; S63 AMG manufactured by Mercedes-Benz, Dodge Challenger SRT, H2 – Hummer and Jeep WrPorsche Turbo.
All in All, in his tenure from 2003 to 2017, LeBron James has achieved 25 prestigious awards. Some of them are:
NBA Most Valuable Player Award
Sports Illustrated Sportsperson of the Year
All-NBA Team
Bill Russell NBA Finals Most Valuable Player
NBA All-Defensive Team
NBA Rookie of the Year Award
NBA-All Star Game Most Valuable Player
NBA All-Rookie Team
Best Male Athlete ESPY Award
McDonald's All American Game
Associated Press Athlete of the Year
Best NBA Player ESPY Award
Best Championship Performance ESPY Award
BET Award for Sportsman of the year
Teen Choice Award for Choice Male Athlete
Ohio Mr. Basketball
Best Breakthrough Athlete ESPY Award
Mr. Basketball USA
Naismith Boy's High School Player of the Year
USA Basketball Male Athlete of the Year
Kids' Choice Award for Male Athlete
Associated Press Male Athlete of the Year
For more on celebrities' Net Worth and gossip, keep visiting Article Bio