Articlebio
https://articlebio.com/
Former Basketball Player Kobe Bryant's Married Life with Wife of seventeen years Vanessa Bryant; Shares three Children together
Published on

14 Jan,2018
Updated on

14 Jan,2018
The former professional basketball player Kobe Bryant, 39 after spending 20 years of his career playing for the Los Angels Lakers of the National Basketball Association, is enjoying his family life with wife and children after retirement.
He is married to Vanessa Bryant, and the couple has three children together. Let us discuss Kobe's love life here!!!
Kobe Bryant's Married Life With Wife Of Seventeen Years Vanessa Bryant; Shares Three Children Together
Kobe Bryant and Vanessa were too young when they tied the knot in 2001. The NBA star and the model first met in November 1999 when Vanessa was just 17 and Kobe 20.
They met when Vanessa was filming a music video, and Kobe happened to be in the building. Destiny!!!
Kobe and his wife Vanessa pictured together in 2009
Source | Getty Images
Though the couple faced many ups and downs in their relationship, they are still together. Well, they say the perfect relationship is the result of two people who never give up on each other.
The pair welcomed their first daughter Natalia Bryant in 2003 and the second daughter Gianna Bryant in 2006.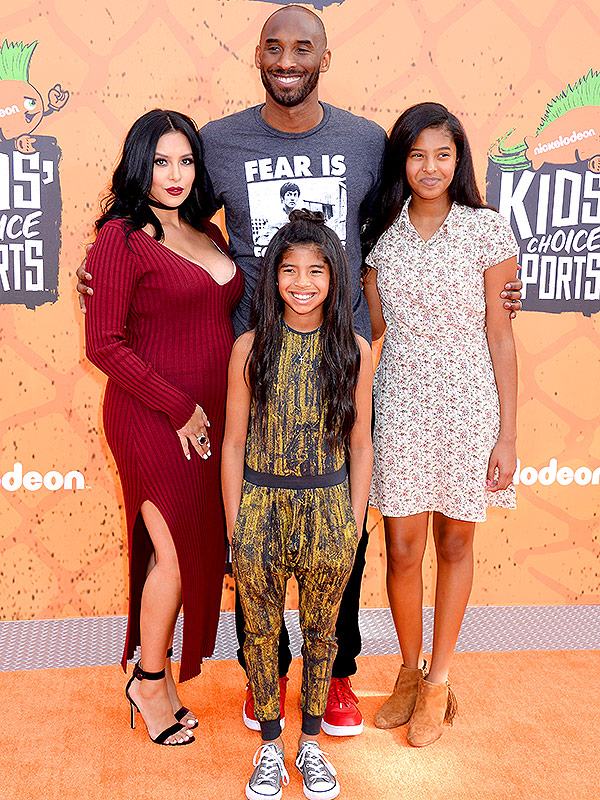 Kobe with his family on Kids Choice Sports Red Carpet
Source | Celebrity Babies and Kids
Almost after a decade-long relationship as a husband and wife, Vanessa filed for divorce in December 2011 citing irreconcilable differences. Both Kobe and Vanessa, however, worked on their marriage together and called off the divorce in January 2013.
Kobe shared the news on Facebook with a caption:
"I am happy to say that Vanessa and I are moving on with our lives together as a family. When the show ends and the music stops, the journey is made beautiful by having someone to share it with."
Another girl child Bianka Bella Bryant added more happiness to the family. She came to earth in December 2016.
Bianka Bella Bryant celebrating her first Birthday in December 2017
Source | Instagram
The retired NBA star and his gorgeous wife is most probably planning for the fourth one. During an interview with Extra TV, he said,
"I hear boys are just walking tornadoes. We'll see. I think Vanessa wants a boy more than I do."
Well, we wish them to have a happy and blessed family life together.
Kobe Bryant Accused Of Sexual Assault
In the year 2003, Kobe was arrested by the sheriff's office of Eagle, Colorado for an investigation of a sexual assault.
The allegation was filed by a 19-year-old hotel employee. On 30 June 2003, Kobe arrived at the Cordillera Lodge and made small talk with the lady.
Kobe Bryant was charged with sexual assault in 2003
Source | The Augusta Chronicle
He took the blonde aside and requested her to be back in a while to give him a private tour of the hotel. After the tour and flirtations, Bryant invited her into his room. Five minutes later, the lady exited the room with bloody underwear as was Bryant's shirt.
She explained all the incidents that happened in the room with her friend, a bellboy at the hotel. Then the boy described the incident to his father.
Woman Pictured as Kobe's Accuser
Source | The Denver Channel
The next day she again shared the incident with her mother and reported it to police. The case tarnished Bryant's reputation and totally changed the perception of his fans towards him.
His brand endorsements contracts with Mc Donald's and Nutella were terminated. The case, however, was dropped in September 2004 as the accuser refused to testify at the trials.
Afterwards, the star apologized to her for the incident. He issued his public mea culpa,
"Although I truly believe this encounter between us was consensual, I recognize now that she did not and does not view this incident the same way I did. After months of reviewing discovery, listening to her attorney, and even her testimony in person, I now understand how she feels that she did not consent to this encounter."
The two sides finally settled their disputes, but the specific terms of the settlement haven't yet been disclosed to the public.
Kobe Bryant; Quick Facts
Born on 23 August 1978 in Philadelphia, Pennsylvania.
The birth sign is Virgo.
Stands at the height of 6ft 6in (1.98m).
Studied at Lower Merion High School in Ardmore.
Became the first freshman in decades to commence for Lower Merion's varsity team.
Won many awards including Naismith High School Player of the Year, Gatorade Men's National Basketball Player of the Year, McDonald's All-American and USA Today All-USA First Team player.
He was praised as one of the 35 Greatest McDonald's All-Americans in 2012.
Has an estimated net worth of about $350 million at present.