Articlebio
https://articlebio.com/
Cara Delevingne attends new Film's Press Conference,Know about her Dating and Affairs in Details
Published on

02 Jul,2017
Updated on

10 Aug,2017
The British model, Cara Delevinge showed off her grown-out pixie cut looking super animated as she attended the Valerian and the City of a Thousand Planets Press Conference held at the Four Seasons on Friday (June 30) in Beverly Hills, Los Angeles.
The 24-year-old actress and model proved that she could pull off any look as she held court for her latest movie. Posting a picture of herself with her shaved head in May, she wrote: 'It's exhausting to be told what beauty should look like.
I am tired of society defining beauty for us. Strip away the clothes, Wipe Off the makeup, cut off the hair. Remove all the material possessions. Who are we? How are we defining beauty? What do we see as beautiful?
"Valerian and the City of a Thousand Planets" Press Conference Info
Meanwhile, speaking about her latest sci-fi flick, the French director, Luc Besson who is behind hits such as The Fifth Element, Leon: The Professional, Lucy and Nikita unveiled that he was inspired by the serialized 1960s comics from Pierre Christin and Jean-Claude Mezieres on which it is based.
Now, talking about her role in the movie, model Cara Delevigne, who took on the lead role in 2015's Paper Towns, revealed:
'I grew up loving Luc's movies from when I was a kid. This is my biggest dream.'
Valerian and the City of a Thousand Planets will hit US theaters on 21 July and UK theaters on 4 August 2017.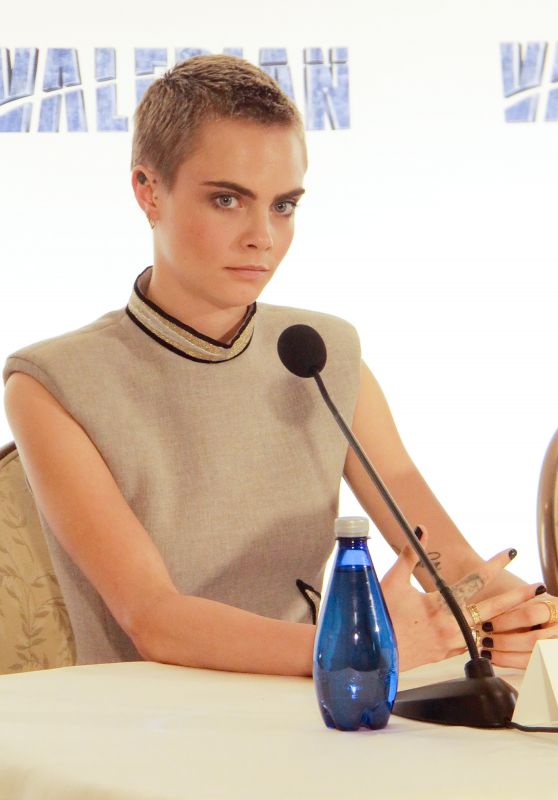 Cara Delevingne attending the "Valerian" Press Conference on Friday
The event was accompanied by several famous faces which included singer Rihanna, Ethan Hawke, John Goodman and Clive Owen.
KNOW ABOUT CARA'S DATING AND AFFAIRS
Despite being a bit of newbie on the Hollywood scene, Cara Delevingne seems to be well-versed in the dating world.
No matter what you think of Cara's past love life, she straight up DGAF about anyone's opinions which just makes her more perplexing! Delevingne has been a main in the tabloids ever since her rise to stardom.
Her name is usually linked to whichever celeb friend that she's gotten dinner with recently. Delevingne has been rumored to be tied to everyone from Leonardo DiCaprio to Selena Gomez.
Here's Cara Delevingne's dating history, including who she's dating now:
Jake Bugg 2011-12
Delevingne's first high-profile relationship was with musician Jake Bugg. The couple was together for one short year only.
Caption: Jake Bugg
Though they were a good match for one another, Bugg couldn't handle all the attention that Delevingne got after the immense stardom. They called it quits after the stresses of fame became too much for their relationship to overcome.
Harry Styles 2013
It seems like Harry Styles has dated almost everyone from the Taylor Swift squad. While Styles and Delevingne never really confirmed their romance, we still think that there was little something between the two.
Caption: Harry Styles
Source: GettyImage
Styles went to numerous runway shows that featured Delevingne and many thought that he attended to support his girlfriend. They also went to a theater show in London together during this time. But they obviously didn't stay together for long.
Michelle Rodriguez 2014
Delevingne's next major and headlines making relationship was with actress Michelle Rodriguez. Delevingne and Rodriguez were first seen getting close at a Lakers game early in 2014 and things really took off from there. The couple was seen doing literally everything together from hanging out with friends and family to going on vacations together.
Caption: Michelle Rodriguez
Rodriguez had the most heartwarming things to say about Cara when she spoke about the couple's budding relationship in 2014. Rodriguez told Mirror that her relationship with the model was, "going really well. She's so cool. When we started hanging out I just thought she was awesome and we have the best time together." The couple couldn't make things work and split in mid-2014.
St. Vincent 2015-present
Cara's most recent and happening relationship with St. Vincent (also known as Annie Clark) began last year and is still going strong.
She even spoke candidly about her relationship to Vogue as:
"I think that being in love with my girlfriend is a big part of why I'm feeling so happy with who I am these days."
Caption: St.Vincent
We hope that this beautiful couple will walk a long distance together. For more updates and information about Cara Delevingne and her dating life, stay tuned with us!