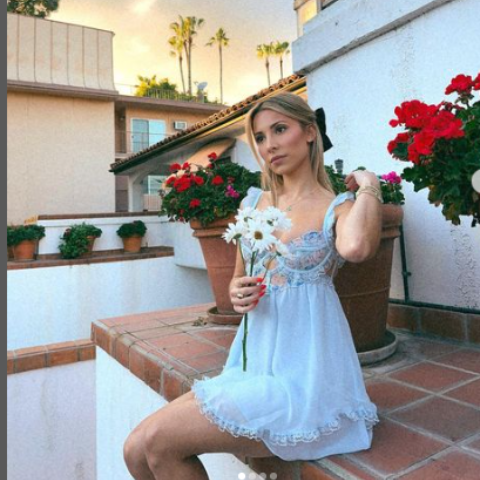 CAPTION: Ayla Woodruff
SOURCE:
Born and raised in the United States of America, Ayla Woodruff is a social media star and a YouTuber. She posts videos and pictures related to fashion, lifestyle, and travel on her YouTube channel. As of January 2019, her YouTube channel has 800k subscribers. Besides, she is a very popular face on Instagram where she has 1.5 million followers. She worked as an a s sistant to Logan Paul before she started her YouTube channel.
Early Life And Bio Of Ayla Woodruff
Ayla Woodruff was born on August 26, 1992, to father Brian Woodruff and mother Diana Woodruff in the united state of America. She was born under the zodiac sign of Virgo which predicts her character to be logical, practical, and systematic.
She has 3 siblings; Blake Woodruff, Trevor Woodruff, and Raina Woodruff. She completed her graduation from the University of California San Diego (UCSD).
Ayla Woodruff's Career
After her graduation, Woodruff started working as an a s sistant to Logan Paul, a famous YouTuber and internet personality. Later Ayla also joined YouTube on August 19, 2015, creating a self-titled channel. Even though she created a channel in 2015, she didn't post any video for the next 2 years. On May 1, 2017, she uploaded her first video titled Intro to My YouTube - Ayla Woodruff.
She mostly uploads the video related to fitness and fun. As of January 2019, she has about 800k subscribers and has a total of 21,584,402 views.
The most-watched video of her channel is Reaction to Logan Paul's new Assistant which got more than 5.9 million views.
The video shown below is Ayla Woodruff's most-watched video where she reacts to Logan Paul's new a s sistant and judges his new a s sistant.
Some of her popular videos on YouTube are I Stole Logan's Puppy, Finally Told my mom I'm Pregnant. Besides being a YouTuber, she was also part of the 2003 comedy-drama film Cheaper by the Dozen, directed by Shawn Levy.
She acted alongside her brother Blake Woodruff and the other cast members like Steve Martin and Hilary Duff in the movie. As she kept on working on some movies and YouTube videos, she started rising as one of the most admired social media stars. She also started getting more attention on Instagram. As of 2019, she has 1.5 million followers on Instagram and has over 50k followers on Twitter.
What Is YouTuber Ayla Woodruff's Net Worth? What Are Her Sources Of Income?
Ayla Woodruff's net worth is estimated to be around $200,000 as of 2019. She makes a good amount of money from her YouTube career as well as she also earns as an actress. According to the social blade, a YouTuber like her earns $58 - $933 per month from their YouTube videos where their earning can rise based on the advertisement, and sponsored content.
She also worked on a comedy-drama film which also helped her to increase her fortune. According to the source, an Instagram user who has more than 1 million followers can earn about $8,000 per sponsored post.
Ayla Woodruff hasn't revealed her properties on the media, however, we can see her pet dog on her social media posts. Her dog is named Mr.Moomer and she loves to spend her free time with her pet.
Ayla Woodruff's Boyfriend, Affair, And Relationship
Ayla Woodruff is single at present and is enjoying her single life focusing on her career as a YouTuber and an aspiring actress. Before Woodruff started living a single life, she was in a long-term relationship with Mackinzie Dae. Mackinzie is a cinematographer, photographer, model, and commercial drone pilot.
Woodruff also worked with Team 10, a social media talent management company created by Jake Paul, as a producer and director for the music video. The video was released in January 2018. Woodruff and Dae shared several quality times together before they separated in 2018. She used to share their photo on her Instagram when the couple was together.
On December 3, 2017, Woodruff posted a photo with her boyfriend writing cuddling with her boyfriend was one of her favorite things to do on Christmas.
The couple reportedly broke up due to their personal differences. After her tragic breakup from her beau, she uploaded a video titled Why I Left which is believed to be dedicated to her ex-boyfriend.
Was Ayla Woodruff In A Relationship With Logan Paul?
There was a rumor that Ayla Woodruff was in a relationship with Logan Paul when she was working as his a s sistant. Ayla and Logan were seen flirting with each other in many of his videos. But it was all just rumors. She has never dated Logan, however, Paul can be seen asking Woodruff to be his love interest several times which she rejected every time.
Ayla Woodruff's Age, Height, And Other Facts
Height: She stands at the height of 4 feet 11 inches or 150 cm.
Weight: She weighs around 42 kg or 92.5 pounds as of 2019.
Age: Ayla Woodruff is aged 26 as of 2019.
She belongs to American nationality and her ethnicity is mixed.
On August 21, 2017, the social media star shared a video related to her aerial yoga experience where she met severe injury and captioned the video as "ALMOST DIEDw/ Sofie Dossi" although there was no near-death incident.
You May Also Like: Patty Mayo, and Colleen Ballinger