At least 13 died and over 25 injured in Southern California after a heavy-rain triggered mudslides swept homes away from their foundations on Tuesday, 9th January.
The heavy mudslides and floods have blocked the roads- forced the rescue crew to use helicopters for evacuation.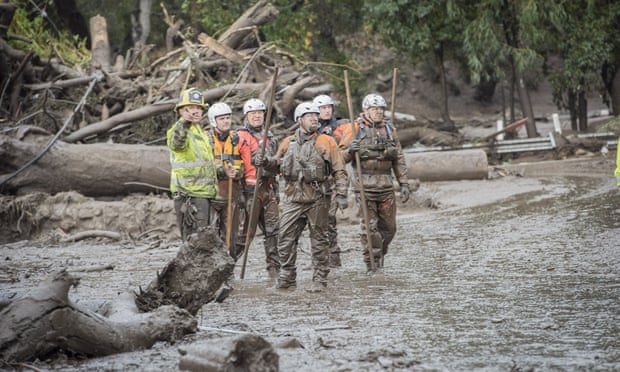 Rescuers working together after the ma s sive mudslide in southern California
Source: The Guardian
The firefighters slogged through waist-high mud to rescue a 14-year-old girl out of her ruined Montecito home, where she was stuck for hours.
Santa Barbara County spokesperson David Villalobos told most of the deaths were occurred in Montecito area, which is home to the celebrities like Oprah Winfrey, Ellen Degeneres, and Rob Lowe
Villalobos also said many houses in the Montecito area were destroyed due to the landslides. The Santa Barbara County Sheriff Bill Brown said the death toll might rise as the rescue is still on.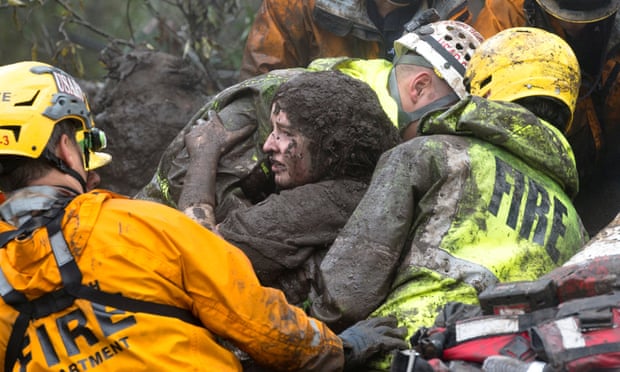 Firefighters carrying a woman rescued from a collapsed house after a mudslide in Montecito
Source: The Guardian
The rescue crews worked for hours to clear debris from roads across the LA metropolitan area including a key stretch of US 101 which was brought to a standstill along the border of Ventura counties, and Santa Barbara.
The mudslide was downstream from the area from where the Thomas Fire burned thousands of acres in December 2017. The fire burned more than 281,000 acres in Santa Barbara and Ventura counties.