Anjelica Bette Fellini is a talented American actress who got into media prominence after landing the role of Rebecca Hoover in the television series The Gifted. Besides the 27 years old, actresses came into the industry as a dancer and later ventured into the showbiz industry.
Anjelica Bette Fellini Age and Nationality
Anjelica Bette Fellini was born in New York City, US, in 1994, making her age 27 years as of early 2022. The 5 feet 5 inches tall actress lights her birthday candle on November 26 every year. She holds an American nationality and belongs to Italian descent.
Fellini has not left her hometown since her birth and still resides there. As for her education, the actress attended ballet school at the Lincoln Center, New York, as she was interested in dance from an early age.
Career: TV Shows and Movies
As mentioned earlier, Fellini came into the industry as a dancer. Initially, her dance instructor suggested that she should take acting classes as she had a lively and expressive character. And by the age of 20, she had already started performing on stage in The Phantom of the Opera.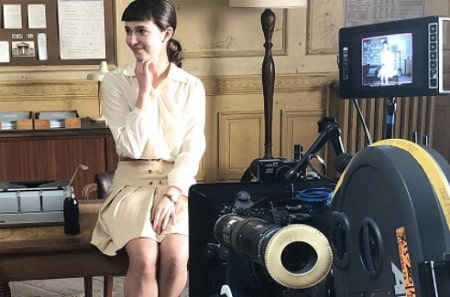 CAPTION: Anjelica Bette Fellini in a movie set SOURCE: Instagram @anjelicafellini
In 2017, she made her on-screen debut by landing the role of Margot in the short movie Margot. In the same year, Fellini made her appearance in another short film, #BestWebSeriesEver. Furthermore, we can see her appearance in Isabella in Too Close to the Sun.
Finally, in 2018, she made her television debut by starring Rebecca / Twist in Fox's The Gifted. Many people loved her work. And after two years, Fellini played the role of Blair Wesley in the television series Teenage Bounty Hunters. In the respective movie, she worked together with Kadeem Hardison and Virginia Williams.
In the following year, Fellini starred in another hit movie The French Dispatch as Proofreader alongside Benicio Del Toro, Adrien Brody, Tilda Swinton, and Léa Seydoux.
Relationship Status: Who Is Her Boyfriend?
The Gifted actress is currently in a relationship with her boyfriend, Jake Horowitz. The couple has been dating each other for a few years now and is having a good moment. Moreover, they frequently post pictures on their social media handles.
In addition, Horowitz is also engaged in the same field, and he is an actor. We can see his appearance in the movies such as The Vast of Night, Adam Bloom, Agnes, and Julie Taymor's A Midsummer Night's Dream. Also, he has won the CCA Super Award nomination for his work in The Vast of Night.
CAPTION: Anjelica Bette Fellini with her loving boyfriend Jake Horowitz SOURCE: Instagram @anjelicafellini
Furthermore, Horowitz's birthday falls in September and Fellini had also wished him his birthday by sharing their pictures. Moreover, we can follow the actress on Instagram, where she is registered as @anjelicafellini gaining over 132k followers.
How Much Is Fellini's Net Worth In 2022?
Working as an actress in various movies, Fellini has amassed a good sum of money to her name. Anjelica Bette Fellini's net worth is reported to be around $1 million. The actress has made most of her gains from her profession as an actress. Her salary may be $91401 a year, which is the average salary of an actress in the United States.
In the year 2021, she appeared in The French Dispatch, which was made on a budget of $25 million and made a box office collection of $46.1 million. So, the actress might have earned a fair profit for her role. Apart from that, Fellini makes money from endorsement deals. According to the Influencer Marketing Hub, she has the potential to earn $400.5 - $667.5 from a single sponsored post on Instagram.