Tom Homan is an American former police officer and government official. He served as the Acting Director of the U.S. Immigration and Customs Enforcement (ICE) for 17 months from January 2017 to June 2018. Since then, he has been a contributor to Fox News.
Tom Homan: Age and Education
Tom Homan was born Thomas Douglas Homan on November 28, 1961, to Doris and Frederick L. Homan. The 58-year-old is a native of New York where he was raised in West Carthage. Homan attended Jefferson Community College in Watertown, New York, where he got his a s sociate degree in criminal justice. He got his bachelor's degree in Criminal Justice/Police Science from the State University of New York Polytechnic Institute (SUNY Polytechnic Institute) at Utica–Rome.
Career
At the beginning of his career, Tom Homan was a police officer stationed at his hometown of West Carthage, New York.
In 1986, Homan left the police force to join what was then called the United States Immigration and Naturalization Service (INS). During his tenure, Homan served as a border patrol agent. He was then promoted to Supervisory Special Agent, then an investigator, then supervisor. In 2013, under President Barack Obama, Homan was promoted to Executive Associate Director of Immigration and Customs Enforcement.
He was instrumental in checking the influx of illegal immigrants to the United States. Under his leadership, INS worked in conjunction with departments like the Criminal Alien Division, the Fugitive Operations Division, the Intelligence Operations Division, the Compliance Enforcement Division, the Response Coordination Division, and the Executive Information Unit.
Career at ICE
The U.S. Immigration and Customs Enforcement (ICE) was created in 2003 to "protect America from the cross-border crime and illegal immigration that threaten national security and public safety".
Homan joined ICE as the Assistant Special Agent in Charge of Dallas. He was later promoted to Deputy Special Agent in Charge.
In March 2009, Homan was appointed the Assistant Director for Enforcement at the ICE headquarters in Washington, D.C., and later, the Deputy Executive Associate Director.
Tom Homan and President Donald Trump
SOURCE: The Independent
He held the position as such until President Donald Trump appointed him the Acting Director on January 30, 2017. In the year-plus that he was acting director, ICE doubled down on Homan's philosophy and by April 2017, ICE had successfully incarcerated 41,319 illegal immigrants.
Homan was once again promoted, this time as the Director for ICE. He held the post until his retirement on June 29, 2018.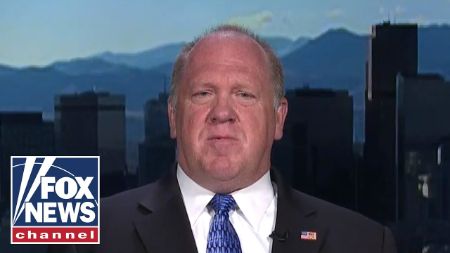 Tom Homan on Fox News
SOURCE: YouTube
In August that same year, Homan joined Fox News as a contributor.
Homan is also an author and to date, has released a book titled "Defend the Border and Save Lives: Solving Our Most Important Humanitarian and Security Crisis."
Tom Homan has spent 34 years of his life in service of the nation its borders. He has won numerous awards for his contributions, including the Presidential Rank Award as a Distinguished Executive in 2015 awarded by then-President Barack Obama.