Miya Dickey Houston is the wife of Marques Houston, an American R&B singer, songwriter, dancer, model, and actor. Marques was a member of the R&B group Immature/IMx from 1990 until 2002 and went solo in 2003.
Miya's husband, Marques the popular actor and musician, has been happily married to Miya Houston since August 2020. Their love story is one that began with a chance meeting and blossomed into a beautiful relationship.
The Beginnings A Fateful Meeting OF Miya Dickey Love
Marques Houston and Miya Dickey first crossed paths at a Jehovah's Witness event in 2018. Their shared faith brought them together, and they instantly connected. Introduced by Marques' manager, Chris Stokes, and his daughter Chrissy Morales, the couple felt an immediate spark and began their journey towards love.
Although they met in April 2018, Marques and Miya didn't start dating until October 8, 2018—the day after Miya's 18th birthday. They took their time getting to know each other and building a strong foundation for their relationship.
CAPTION: Miya Dickey Houston became the wife of Marques Houston, an American R&B singer, songwriter, dancer, model, and actor becoming the famous couple.
SOURCE: Instagram
Despite concerns about their 19-year age difference, Marques defended their love on social media, emphasizing that they started dating when Miya was an adult and had the support of their loved ones.
Their relationship flourished, and after five months of dating, Marques decided to take the next step. In March 2019, he proposed to Miya, and she joyfully accepted, expressing her gratitude for finding her best friend and soulmate.
The Fairytale Wedding Tying The Knot OF Miya Dickey
On August 24, 2020, Marques and Miya exchanged vows in a private ceremony held at the Eagle Glen Golf Club in Corona, California. Due to the COVID-19 pandemic, the guest list was limited to a small number of close family and friends.
Marques looked forward to seeing Miya walk down the aisle, and when the moment arrived, he couldn't contain his emotions and shed tears of joy. Their wedding ceremony was filled with love and personal touches.
In addition to traditional vows, they incorporated a special handshake they had practised for months. It was a testament to their commitment and unique connection. The reception was made even more memorable by a surprise performance from R&B singer Major, who serenaded the couple with their favourite song, "Why I Love You."
Miya Dickey And Her Husband Marques Houston Welcoming Baby Zara
Marques and Miya's love story reached another milestone when they welcomed their first child, Zara Denise Houston, on December 2, 2021. The couple chose to keep the pregnancy journey private, sharing the news and their joy with the world after Zara's birth.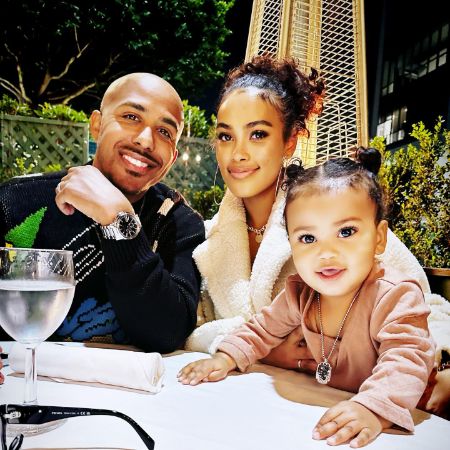 CAPTION: Miya Dickey Houston and Marques Houston, an American R&B singer, and songwriter became the parents of a Baby Zara Denise Houston.
SOURCE: Instagram
Miya expressed her profound love for their daughter, emphasizing the blessings of motherhood and the miracle of bringing a new life into the world. Marques embraced fatherhood wholeheartedly, cherishing his role in his daughter's life.
Marques prioritized his family and made sure to be present and involved. Parenthood became one of his greatest accomplishments, and he credited Miya for helping him maintain a balanced and fulfilling life.
Marques Houston's Wife Miya Dickey's Net Worth
Miya Houston, the wife of Marques Houston, is a professional makeup artist and social media influencer. She is also the mother of their daughter, Zara Denise, born in December 2021. Miya has established a successful career in the beauty industry, and her net worth is estimated to be around $1 million.
Miya's net worth is largely attributed to her successful career as a makeup artist. She has worked with many celebrities, including Cardi B, T.I., and Nicki Minaj. She has also been featured in publications such as Vogue, Elle, and Harper's Bazaar. Additionally, Miya has collaborated with several brands, including Fenty Beauty, Maybelline, and CoverGirl.
CAPTION: The famous family of Miya Dickey Houston and Marques Houston.
SOURCE: Instagram
In addition to her career as a makeup artist, Miya also earns money through her social media presence. She has over 1 million followers on Instagram and is often sponsored by brands for her posts. She also has a YouTube channel with Chrissy Morales, where they share makeup tutorials and other beauty tips.
Miya is also the beneficiary of Marques' success. Marques is an American R&B singer, songwriter, dancer, model, and actor. He has also starred in a number of films, including You Got Served and Sister, Sister. Marques' estimated net worth is about $10 million. He also worked with famous artists like Kimberly Kardashian West and Moniece Slaughter.
Miya Dickey's Career As An Talented Makeup Artist
Beyond being Marques Houston's wife, Miya is a skilled makeup artist. She has honed her craft and established herself as a professional in the industry. Her work extends to movies, including projects such as "The Stepmother," "The Stepmother 2," and "Best Friend" on Tubi.
Miya has also worked with notable personalities like Tanee McCall and V. Bozeman, showcasing her talent and passion for her profession. She frequently shares her beauty routines on social media, offering glimpses into her expertise and inspiring her followers. Her dedication to her craft is evident, and her skills continue to shine.
Life Behind the Scenes Their Social Media Presence OF Miya Dickey
Marques and Miya give their fans a glimpse into their lives through social media. They share special moments, daily routines, and snippets of their family life. Their Instagram accounts reflect their love and commitment to each other and their joy in raising their daughter, Zara.
In August 2022, Miya surprised Marques with a romantic beach picnic to celebrate their second wedding anniversary. She expressed her love and appreciation for him, highlighting the importance of their relationship and their shared adventures. Their social media posts are filled with affection and reflect the deep bond they share.
Visit for more informational articles about your favourite celebrities with Article Bio.