Articlebio
https://articlebio.com/
Uncover Jennifer Giroud and French striker Olivier Giroud's Happy Married life, here
Jennifer Giroud is a name of a beautiful and young woman who is married to the famous French footballer Olivier Giroud, who is a striker for the French national team and plays for English premier league club Arsenal. Giroud is a good friend of former Arsenal midfielder Alexis Sanchez.
They got married in the year 2011. Jennifer and have two children Jade Giroud and Evan Giroud. Let's find more about the couple's relationship here.
Jennifer Giroud and Olivier Giroud, a Happily Married Couple
The couple had a small celebration when they came to know about Jennifer being pregnant. Jennifer has been a mom to an adorable daughter named Jade who blessed this couple with more of the happiness coming into this world in June 2013.
Looking at the pictures of Jennifer, she is a simple and ordinary girl. She might be in her mid-twenties. She has got good height and has a slim body with a flat stomach. It seems she has maintained her figure and is conscious about her diet intake. She has got a hot and sexy body and nice looks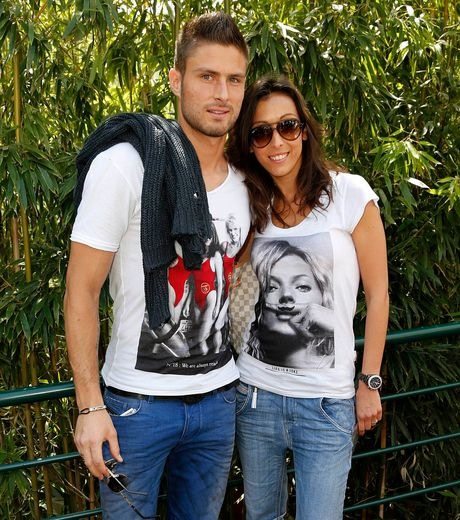 Olivier Giroud and his wife Jennifer, Source: fabwags
There is not much information available on Jennifer Giroud in any of the internet sites including Wikipedia unless in the topics related to Olivier and pictured with him on and often at various places.
She looks appalling in any of the outfits she wears especially when she shows her slender toned legs. She looks incredible in the bikinis as well. Her pictures can be found in the tumbler, and other internet websites. She has her pictures with friends snapped more on Rio's beach and even with Olivier, she has been to Rio's beach and they have spent quality time.
Giroud family, Source: Pinterest
This speculation generalizes the idea if she is a Brazilian woman. Jennifer moved to London, England after getting married to Olivier as he plays for English club Arsenal. The couple looks very adorable together making the best match.
Olivier once cheated his wife Jennifer
The couple was having a good time with each other, spending happy married life but suddenly a tragedy comes in her life, i.e. being cheated by her husband. It was the insane move of Olivier of course but one has to go through what it has been written in the destiny.
Olivier Giroud spent the night with the in famous swimsuit and lingerie model Celia Kay, in the four seasons Hotel Canary Wharf on the eve of the match of Arsenal against Crystal Palace.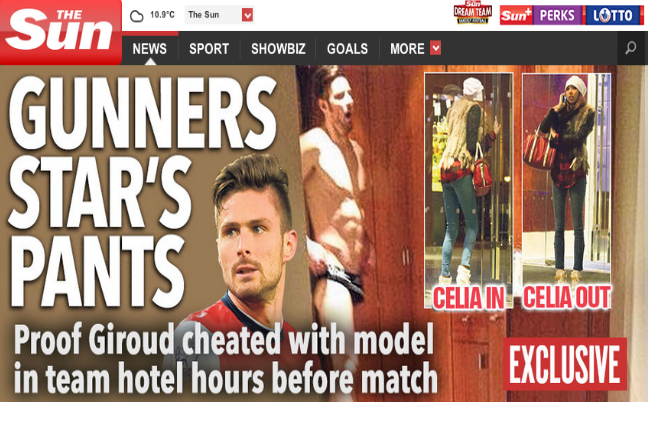 Giroud once cheated his wife, Source: The Sun
The incident was revealed when Celia Kay posted a photo of Olivier Giroud wearing his underwear and one of her in her lingerie in the hotel's bathroom. Initially, Olivier had denied about the incident but after the release of his photo, he had to admit it. He then publicly offered his apology to his wife Jennifer and audiences.
Jennifer must have been hurt by Olivier's such behavior cheating his wife and baby with a one-night stand woman. However, she did not speak anything about it. After her husband admitted that he cheated her, she shut her Twitter account.
There is no news of their divorce or staying separately but there is information reported by the source that Jennifer Giroud will take Olivier back in her life only if he leaves London, England and move to Paris. Olivier Giroud had made a terrible mistake which supposedly ruins his happy marital life. However, the condition to save the marriage seems very less so he is going along on Jennifer's desire.