Gregg Allman, the American singer Cher's ex-husband, pa s sed away on May 27, aged 69. He was popular for performing in the Allman Brothers band.
The rock and roll Hall of Famer reportedly suffered from multiple health issues over the past several years. Cher memorialized her former husband Gregg with some heart touching words via Twitter. We have all the details here.
Gregg Allaman Is No more with us. Heart touching message from his ex-wife Cher
According to some reports, during his relationship with Cher, Gregg reportedly became addicted to he r o i n and was also arrested in 1976. Allman struggled for years with alcohol, he r o i n and other drugs and was even treated numerous times, before entering recovery in mid-90.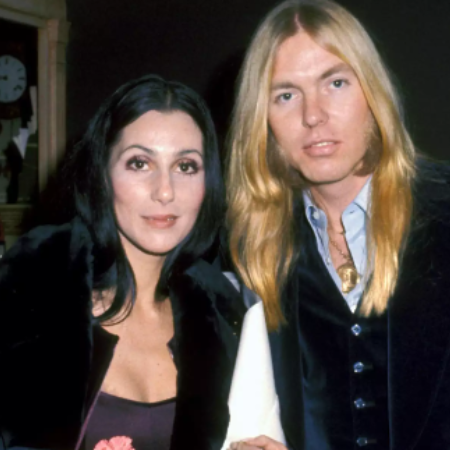 CAPTION: Gregg Allaman Is No more with us. Heart touching message from his ex-wife Cher
SOURCE:
Gregg was diagnosed with Hepatitis C in 1996 and also had a liver transplant in 2010. The soulful singer was known for his long blond hair and tales he conveyed through his music.
The rock star died at his home in Savannah, Georgia, on Saturday after a long illness. Many celebrities spoke about tragic death. Mere minutes after his death his ex-wife Cher memorialized him with a very emotional message in her tweets.
MY HEART IS BROKEN??..A LION IS GONE??
ZBIGNIEW BRZEZINSKI,A TRUE GENIUS,& GENTLEMAN...IS DEAD??
MY HEART GOES OUT TO???? @morningmika

— Cher (@cher) May 27, 2017
Cher also tweeted a very adorable picture with her ex-husband mentioning Gregg that she will never forget him.
never forget....gui
??chooch pic.twitter.com/q3BWnnNohp

— Cher (@cher) May 27, 2017
Cher and her Ex-Husband Gregg Allman's Relationship
Cherilyn Sarkisian best known as Cher is an American singer and actress. The singer is popular for her distinctive contralto singing voice and adopting a variety of styles and appearances.
In 1975, she got married to the Gregg Allman, a member of the Allman Brothers Band soon after the divorce from her longtime partner and co-host Sonny Bono. Cher and Gregg created an album together named Two the Hard way and their partnership got along during mutually transitional period as they both aimed to revamp themselves in the next decade.
In 1976 the Allman Brothers Band broke up. The same year, Gregg and Cher's son, Elijah Blue was born due to which the couple rekindled their relationship.
By 1978, the couple got separated officially as partners as well as musical collaborators. After the divorce with his wife Cher, Gregg remarried three other women, Julie Binas, JP Galiana and Stacy Fountain.
After her divorce from Gregg Allman, Cher has dated a number of men, including some pretty big Hollywood celebrities, everyone from Warren Beatty to Tom Cruise. For more updates on the topic and fresh celebrity gossip, keep coming back to Article Bio.