Cuban-born Steven Bauer is an American actor contributing to the acting industry since 1977. He is famous for his role as Manny Ribera in the movie Scarface (1983). Similarly, he is also known for his performance in Primal Fear, Paloma, Traffic, and Breaking Bad.
What Ethnicity Is Steven Bauer? His Real Name, Age, & Height
Steven Bauer's real name is Esteban Ernesto Echevarria Samson. He was born on 2 December 1956 under the birth sign Sagittarius.
Steven was born and raised in Havana, Cuba, to his mother, Samson Agostini; however, the identity of her dad is not available. As per sources, her mom is a school teacher while his father was a pilot who enrolled in Cubana Airlines.
CAPTION: Steven Bauer present at Miami, Florida, during Scarface's 35th anniversary.
SOURCE: Instagram@ officialstevenbauer
Being Jewish refugees, Bauer's grandparents moved from Germany, and his ancestry belongs to Italy. Since his parents were both holding strong job positions, he was brought up in wealthy childhood times.
Bauer got graduated in the year 1974, and he graduated from Miami Coral Park High School. He was very talented in his education, and his father encouraged him to be a pilot. Still, his interest was focused on the entertainment industry, which dragged him to high order. Steven also joined Miami-Dade Community college but did not complete his education there, and later he got shifted to the University of Miami.
What Is Steven Bauer's Net Worth and Salary?
Bauer left his study to pursue his acting career. He grabbed Theater Arts as his primary subject of education and started working at Jerry Herman Ring Theatre during that very time.
Steven started his professional journey playing with the television series The Rockford Files. He also appeared in From Here to Eternity in 1980, among the popular TV miniseries that helped him raise his fame and identity as an actor.
In 1983, the Cuban-American appeared in Scarface alongside Al Pacino, Michelle Pfeiffer, and Miriam Colon. In the movie, he portrayed the role of Manny Ribera.
CAPTION: Steven Bauer, aka Manny Ribera from Scarface
SOURCE: YouTube @HuffPost Live
His other notable acting credits include ¿Qué pasa, U.S.A.?, Hill Street Blues, UC: Undercover, South Beach, Mutants, Dark World, Hacienda Heights, The Last Gamble, Breaking Bad, Blue Bloods, Ray Donovan, Queen of the South, Better Call Saul, and Nothing is Impossible.
As per IMDb, Steven Bauer has never revealed his wealth to the media. He has 188 movie and television show credits under his name. As per some online sources, he is believed to have an estimated fortune of $5 million, similar to Jon Snow. He earns a reasonable sum via her movies, TV shows, photoshoots, and commercial ads.
Furthermore, Bauer is still active in the entertainment industry and may earn more money through his acting appearance. He will surely add money to his net worth in five upcoming projects. His upcoming projects include In the Night, On Painted Wings, and A Day Like a Week.
Steven Bauer Spouse
Steven's love stories and affairs are very open to the public. He has shared his marriage and divorce stories with new dating and girlfriends. This also made him face many rumors because of his open relationship status. For the first time, he married Melanie Griffith on 8 September 1981 and mentioned her as a spouse, but their married life ended in 1987.
Similarly, he again had his affair with Ingrid Aderson and married in June 1989, but they divorced in 1991. Furthermore, he married his girlfriend Christiana Boney on 27 June 1992, which was also rumored to be the result of divorce. Similarly, he married for the 4th time to Paulette Miltimore on 28 December 2003 but ended with divorce on 18 September 2012.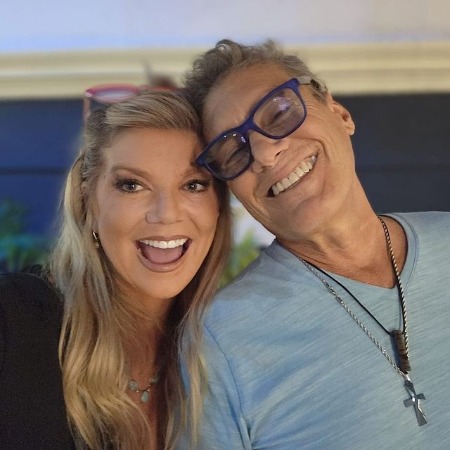 CAPTION: Steven Bauer with his girlfriend Jennifer Brennon
SOURCE: Instagram@ officialstevenbauer
He has two children, sons from his past relationships- Alexander Bauer and Dylan Bauer. He enjoyed a romantic relationship with a new girlfriend, Lyda Loudon, but they separated from each other unknowingly.
In 2022, Baurer was sharing a romantic relationship with Jennifer Brennon. They may not have separated from each other for now as they spent their Christmas together posting on Steven's Instagram. However, they are still together is unknown.
Please stay tuned with us for more exciting updates: ArticleBio.