Articlebio
https://articlebio.com/
Top Ten Celebrities Suffered Malfunctions Including Madonna, Britney Spears, and Nicky Minaj
Published on

23 Jul,2017
Updated on

24 Jul,2017
All of us have gone through pretty harsh situations and celebrities are no exceptions here. Today, we are sharing top 10 "Oops!" moment of the highly praised celebrities from around the world of all time.
1.Dayane Mello:
The gorgeous Brazilian-Italian model Dayane Mello faced the embarrassing moment of robe malfunction at the premiere of The Young Pope at the Venice Film Festival at Palazzo del Casino last year.
Source: stylecaster.com
2. Nicky Minaj:
Nicky Minaj is never off the market for the wardrobe malfunction, however, one of her horrible 'Oops! moment' was on Good Morning America at Rumsey Playfield in Central Park in NYC in 2011 where her dark nipple popped out during a performance.
Source: stylecaster.com
3.Tara Reid:
Actress Tara Reid faced horrible wardrobe malfunction during P Doody's 35th birthday party in 2004. Tara had a good party but ended horribly as her giant boob peeked out of her outfit.
Source: pinterest
4.Christia Milian:
Gorgeous American singer Christina Milian appeared in a see through black gown at the Live by Night premiere Hollywood in early 2017
Source: pagesix
5. Britney Spears:
The American singing star Britney Spears is the queen of a wardrobe malfunction. In a recent, she had a serious wardrobe malfunction as her top slipped during a performance in Las Vegas.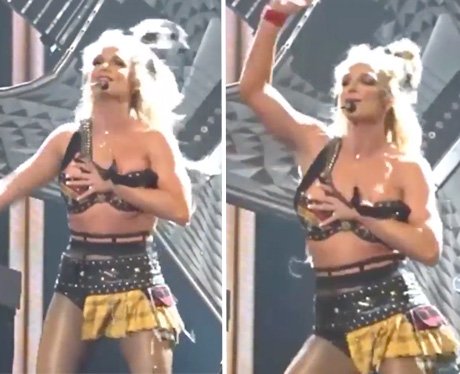 Source: stylecaster.com
6.Tony Braxton:
The gorgeous American singer Tony Braxton accidentally showed her ass due to a serious malfunctioning during her performance in 2013.
??
Source: youtube
7. Gigi Hadid:
American fashion model Gigi Hadid went through an embarrassing malfunction as her boob pop out of her out fit as she walked for Versace at Milan Fashion Week in 2016.
Source: pagesix
8.Janet Jackson:
American singer and stage performer Janet Jackson went through a horrendous malfunction in 2004 where her stylish black outfit couldn't resist her boob from peeking the public.
9.Madonna:
Back in 2015, the queen of pop Madonna suffered an embarrassing moment during her live performance at the BRIT Awards show. She was dancing in a dramatic way but suddenly she fumbled at the stage and fell backward which left millions of viewers feeling awkward.
10. Miranda Kerr:
Miranda Kerr accidentally exposed her breasts shifting her stunning black design to her to her braless top in Septemeber 2013.
Source: pinterest
This is all for today, we hope you all enjoyed the collection of some worst malfunction of American celebrities.